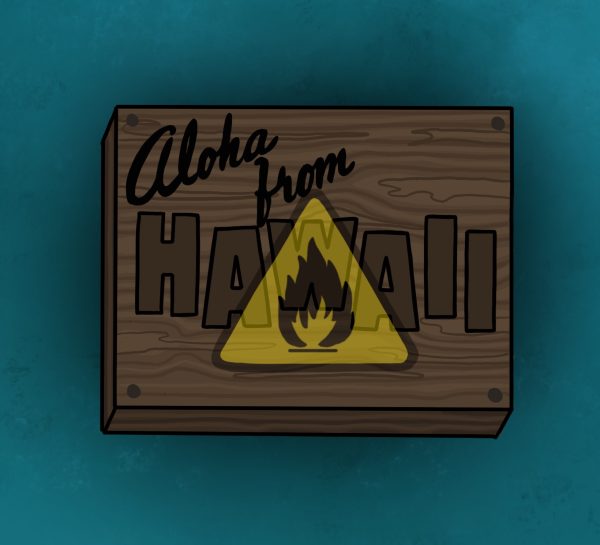 The state of Hawaii was decimated by the United States' deadliest wildfire of the past century, which began on Aug. 8. The recent wildfires caused at least 115 fatalities and destroyed more than 2,200 buildings. Authorities estimated the cost of rebuilding to be  $5.52 billion. 
In the first few days after the fire, 2,000 people were reported missing. The FBI, along with the  Hawaiian government and the Red Cross, located 1,934 people, reducing the number of missing people to 66.
The fire was concentrated in the city of Lahaina, translating to "cruel sun" in Hawaiian, on the west coast of Maui. Fire dangers were first raised with a red flag warning issued on Aug. 7 by the U.S. National Weather Service. The area has always been hot and arid, but with drier vegetation, severe droughts and higher temperatures due to climate change, the winds from Hurricane Dora were able to spread the fire across 2,170 acres of land. 
The fire's origin is still unknown, but investigators are focusing on an "overgrown gully beneath Hawaiian Electric Co. power lines" and are "examining several items that could be possible ignition sources," according to The Associated Press. 
While some visitors and tourists often associate Hawaii with lush, tropical vegetation, the region is covered with "nonnative grasses" that "occupy nearly a quarter of Hawaii's landmass," according to The New York Times. These grasses, which were introduced to Hawaii to help feed livestock, grow quickly and are "extremely flammable," The Times explained, and have caused fires throughout Hawaii, including the August wildfires in Maui.
On average, Maui's "visitor industry" accounts for 80% of the income generated on the island. Approximately one hotel room is available for every seven and a half households on the island, but many are now filled by government relief officials, cleanup crews and locals displaced by the fires. Nearly 7,000 residents of Lahaina have been forced to relocate, and now live in hotels or Airbnb units, although they initially resided in shelters or homes of friends and family immediately after the fire. 
Sept. 1 marked the beginning of the collective grieving period, with ceremonies hosted across Hawaii in support of Maui and those who have lost relatives, friends and homes.
Tourism's effect on hawaii's economy
After the devastation of the wildfire, locals and government officials were conflicted about the immediate and long-term future of tourism on the island. Within days of the calamity, Hawaiian Gov. Josh Green issued emergency proclamations strongly discouraging all nonessential travel to Maui. Locals spoke out in support of the proclamations across social media. 
"Do not come to Maui," Lahaina resident Kate Ducheneau said in a TikTok video, "Cancel your trip. Now."
Many have expressed the insensitive nature of tourists on vacation following such a traumatic event. Some celebrities joined in on these notions too, including O`ahu-born actor Jason Momoa. 
"Maui is not the place to have your vacation right now," Momoa said on an Instagram story in mid-August. 
However, it soon became evident that the lack of tourism was impacting Maui's economy. This issue emulated the pandemic's impact on Hawaii's economy, which also harmed many local businesses primarily funded through tourism. After the fires, visitors of the island decreased by 4,250 each day. Locals and government officials realized they were losing $9 million every day, but were focused on grieving the loss and displacement of their neighbors. Some locals have begun to emphasize that healing from the fires requires funding provided by tourism.
"The island needs to heal and the disaster areas are far from recovered," Maui local Danial Kalahiki told The New York Times. "But the tourist go-home messaging is irresponsible and harmful."
Many streets that are usually flooded with tourists are practically empty, leaving food trucks, street vendors, local restaurants and other businesses with minimal funding to continue their work or provide for their families. The economy's steep decline caused 5,300 Maui locals to file for unemployment in just the first two weeks after the fire. 
"On the one hand, nobody wants to take resources, and a lot of locals were frustrated that some vacationers were acting like everything was normal, but there [are] also working people here who don't want to lose income and don't have a choice but to keep working," New York Times reporter Jill Cowan said in a Times story.
Annie Mullen works at a pizzeria less than an hour's drive from Lahaina. She explained her guilt in worrying about her and her employees' paychecks when there had been so many fatalities, but she feared her situation would worsen if visitors stayed away. 
"It's really hard to navigate the grief and the shock of what horrific event just took place, but then also to have to feel selfishly worried about finances at the same time," Mullen told The New York Times. 
In a later announcement, Gov. Green emphasized the need to travel to the rest of Maui and other Hawaiian islands, while still urging people to avoid West Maui. 
"When you come, you will support our local economy and help speed the recovery of the people that are suffering right now," Green said. "We also urge visitors throughout Hawaii to be especially mindful and respectful in our island home as our community continues through this extremely difficult time." 
Less than a month later, Gov. Green announced that West Maui would be reopened to tourists on Oct. 8, marking two months from the beginning of the fires. As locals were not pleased with this decision, a Maui County Council met to discuss how to respond to the government's announcement on Sept. 27. 
"We are not ready for the tourists to come back right now," Testifier Naiwi Teruya said. "Josh Green, that's a bad call." 
Mayor of Maui County Richard Bissen explained that the opening would occur in phases, beginning with hotels and ending with the area currently providing shelter to those displaced by the fires, which allows more time to address the housing issues. 
"I have hope because I love this place," Lahaina resident Eric Lee told The New York Times. "I love Lahaina. It is everything that I know. It's the people that I see in this place, smiling and together."
The balance of tourism with the protection of Hawaiian culture has been difficult to maintain over the decades. Tensions between locals and tourists have always existed, so some residents argue the recent drop in revenue is a sign that the state should prioritize its residents and rely on sustainable industries rather than tourism. 
Nevertheless, some locals still encourage the return of tourism. Visitors unfamiliar with Maui's geography listened to remarks urging them not to visit to the West Side of Maui and didn't return to any part of the island. However, West Maui only accounts for 15% of the tourism on the island, while South Maui is the center of tourism. 
"No matter what, the rest of Maui has to keep going on," Kalahiki said. "The island has already been shot in the chest. Are you going to stab us in the heart also?"  
How Marlborough is handling the situation 
Traditionally, in May, the Senior Class visits Camp Mokule'ia in the North Shore of O`ahu to celebrate the culmination of their high school careers. In recent years, there have been more conversations concerning the importance of respecting the land; however, following the fires, the administration discussed reconsidering the trip altogether. 
"We're between a rock and a hard place because you want to listen to people who are native to that place, though there is not exactly a unifying voice," 12th Grade Dean Ilyana Contreras said. 
After several meetings took place, a team of teachers and administrators decided that the trip would not be relocated. Instead, an increased focus would be placed on educating students about Hawaiian culture. Like in past years, students will be required to use reusable water bottles and reef-safe sunscreen in an effort to minimize their ecological footprint. Marlborough will continue to invest in local Hawaiian vendors to ensure funding is provided to locally-based businesses.        
"Tourism is such a huge part of the economy there and so it is important we are connecting with and supporting local businesses, rather than large corporations," Interim Upper School Division Head Regina Rosi Mitchell said. "We always want to be thoughtful about where we go and what we support."  
Previously, the lifeguard at Camp Mokule'ia has been a pivotal contributor in ensuring the safety of the students. He is a native Hawaiian with abundant knowledge of the culture and land of O`ahu. This year, Contreras hopes to implement the lifeguard's knowledge and experience as a local into the trip, in order to educate the class on the history of the land and its people.
"We need to consider how we are honoring, respecting and appreciating Native Hawaiian culture, but also minimize our impact on the resources the Hawaiian islands have," Contreras said.
Director of Equity and Inclusion Jenn Wells has been working with Contreras to potentially connect the University of Hawaii with the Senior Class to curate activities that engage the grade in work to better the environment. The plan would be to participate in beach cleanups and work at regenerative farms to proactively help out on the land, rather than solely learning about the history. 
"As fellow humans and scholars, our community can center the voices of the Hawaiian people, learn more about the history of Hawaii and the impact of colonization and make decisions that affirm our School's value to 'Stand with Others,'" Wells said. "As someone who has visited Hawaii with a leadership conference in recent years, one way I've seen this done well is to partner with Native Hawaiian organizations that are tasked with preserving Hawaiian culture and its resources."
Furthermore, 12th Grade Environmental Representative Clara Fenske plans to advocate for an environmentally conscious and sustainable trip. Fenske is supported by Science Instructor and environmentalist Catherine Mino, who also believes waste management is pertinent to the prosperity of Hawaii, particularly in regards to plastic.  
"I think those planning the trip should look to resources from locals, advocate for sustainability and reduce single-use plastics, since that's not always the first thing that comes to people'sf minds," Mino said. "It's important to see the world, but it must be done in a respectful way. When you're out in nature, it's necessary to think of the 'leave no trace' rule and to be mindful of your actions, even if no one is watching, to ensure you are not disrupting nature."
In light of recent events, some seniors believe that Marlborough's values can be aligned with the importance of visiting the land in a responsible manner. 
"With the [Community] Pledge in mind, holding us and the adults accountable, it will guide us to be responsible for our actions and follow the core value of 'Act with Integrity' to respect the environment which we are in," Jiya '24 said.
However, other students find it disrespectful to visit a land that has recently been under distress, especially given the minimal resources. 
"I don't think it's consistent with our community values to sponsor a trip to Hawaii given that the issues with tourism in Hawaii aren't just general issues of the tourism economy, but the fact that Hawaii doesn't have enough fresh water and the water there is allocated to the plantation economy and also to tourists   before it is allocated to Indigenous Hawaiians," Violet Affleck '24 said. "It's hard to do something that so starkly takes resources from vulnerable, Indigenous Hawaiians and diverts them to us as tourists."
While the Hawaii trip was certainly questioned, the decision was given significant thought and the Community Pledge was taken into account. When the Senior Class travels to Hawaii in May 2024, there will be an increased emphasis placed on respecting the land and the people living in Hawaii.
"Though it is exciting, there's a lot of room for us to grow with regards to integrating and understanding Hawaiian culture in the Senior Trip experience," Contreras said.