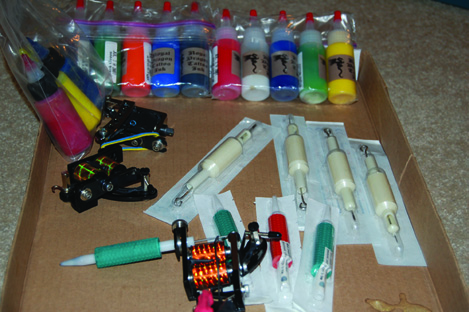 She can pop a wheeley on a lawn mower, teach physics, and tattoo. Essentially, there's not much that science instructor Judy Storm can't do.
Her career as an unofficial tattoo artist began in 2001, when Storm's husband mentioned that he wanted a tattoo sleeve. In efforts to conserve money, she decided she would learn how to tattoo and do it herself.
With a heavy background in arts and crafts such as etch glass, ceramics, beading, stamp cards, and drawing, Storm was eager but anxious to pick up this new art form.
"I was very nervous at first, but my husband has a lot of confidence in me and encourages me to do things I've never done before," Storm said.
Storm went to the store and bought a video tape, sterile needles, and the motor equipment needed to successfully tattoo.
"I basically taught myself how to tattoo, except I had a little help from a friend who led me through the steps," Storm said. "You start off tattooing a grapefruit – apparently it represents the different types of human skin."
The first tattoo Storm ever did was a pentagram on her husband's arm.
"I made the image on a software program called Flash and I printed it out. Then with surgical pens that have pigmented ink, you basically make a carbon copy on the persons arm," Storm said.
Along with a pentagram, Storm has also tattooed a Sanskrit phrase on her husband's arm and has outlined and filled in parts of the sleeve that started this hobby.
"I work in two to three hour increments. I like to do it with the TV in the background. The noise keeps me focused, and I can talk sometimes, but when I actually put the needle to the skin, I'm completely determined," Storm said.
Colleague Nessim Lagnado is not surprised that Storm is able to tattoo so well.
"Judy sees the world in a different way than most people. She sees it in a way that is essential for physics and creativity."
Storm does not plan to make a career out of tattooing or to open her own shop, she said. It would be too much dealing with sanitary issues and insurance. Still, "it's something to fall back on if I ever find myself out of work," Storm said.