Do you fancy a trip to Italy after watching the second season of "White Lotus" or "House of Gucci?" Here's the next best thing without having to fly for 14 hours. Although the country might be thousands of miles away, there are heavenly Italian dishes in our neck of the woods. Italian food has always been my favorite type of cuisine, so here  are my top five restaurants around Los Angeles that have perfectly captured the delightful essence of Italian cooking.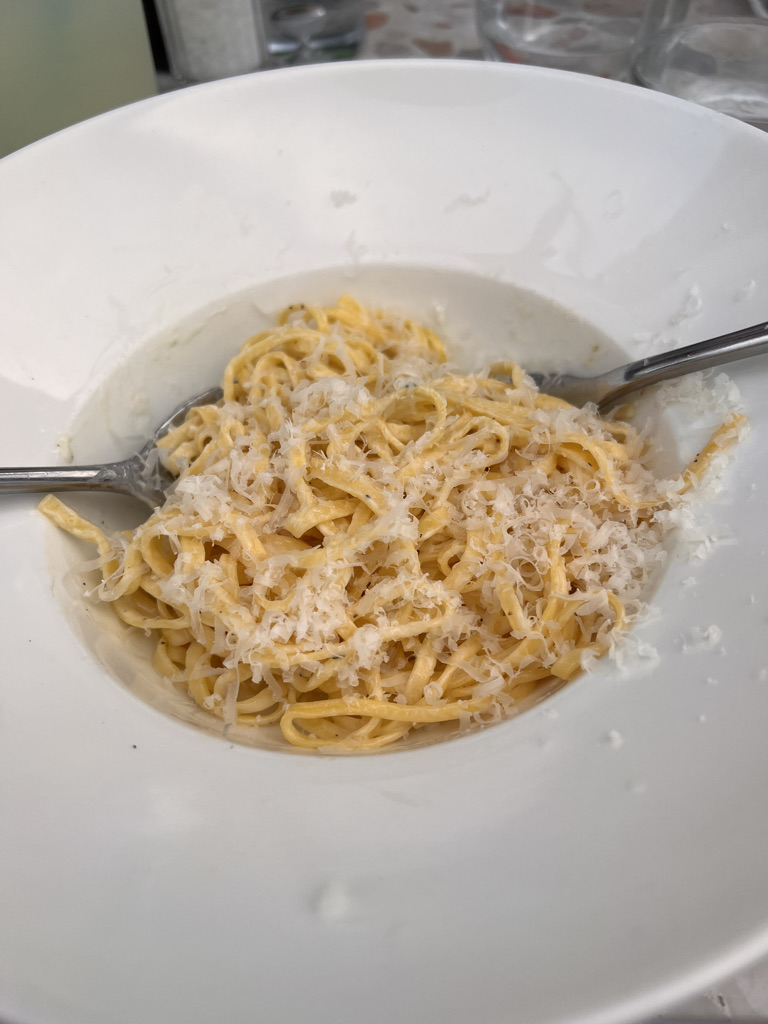 Gucci Osteria by Massimo Bottura
This restaurant, located on Rodeo Drive, is for those who love all things House of Gucci. I ate here for my birthday, and it was one of the most incredible experiences of my life. There are three different menus: one inspired by California called the "Cali State of Mind" one inspired by Italy called the "Under the Palms" and one describing the chef's journey from Japan to Italy to LA called the "Chef 's Experience." We chose the "Under the Palms'' menu, and the dishes were unbelievably creative and beautiful. My sister had a vegetarian version, and it was just as amazing. My favorite dishes included a piquant risotto that was amazingly shaped like a pizza, butter formed into the Gucci bee and the "mini-me" which was a special Michelin chef-created burger that came in a cute pink container and included "Italian fries" that were thick and flavorful. Not only is the food all that you could dream of and more, but the restaurant's gorgeous Gucci floral design is so elegant. The floor was an open space with large windows and marble all around and teal, gold and pink highlights sprinkled throughout. All of the plates had red butterflies or pink and blue wildflowers on them to further the feeling that you transported to an ethereal Italian garden. Even the elevator that took you up to your meal had a colorful wildflower wallpaper. The word beautiful doesn't even begin to grasp how extraordinary this restaurant is.
Forma
Named after Formaggio, or cheese in Italian, Forma, located in Santa Monica and Venice, is known for making their portions of pasta in giant cheese wheels just before they serve you. Forma has been one of my favorite Italian restaurants for a while now. Why you might ask? They have the best Cacio e Pepe that I have ever tasted. It has the perfect cheese-to-pepper-to-spaghetti balance and satisfies all of my cravings. I have eaten Cacio e Pepe in Italy before and this one from Forma tastes identical to the authentic version I had there. Other items on their menu that I adore include their gnocchi and their salad, which contains avocado, goat cheese, almonds and citrus.
Angelini Osteria
There are two Angelinis, one on Beverly Boulevard near the Grove called Angelini Osteria and one at the Palisades Village called Angelini Ristorante & Bar, where the outdoor-indoor layout is so lively and the waiters are all so nice. All of their dishes are good, but my favorite pasta that they offer is their Tagliolini Limone. Tagliolini is a kind of thin, rectangular spaghetti, and this pasta is cooked perfectly, not too al dente but not too soft either. It is so creamy and has the ideal amount of lemony flavor. This pasta is hard to resist because it is so satisfying. The Beverly Boulevard Angelini also has a brunch restaurant called Angelini Alimentari next to it. It is cute and casual and has delicious pastries, gelato and other brunch items.
Eataly
Eataly, located in the Century City Mall, is an Italian marketplace and has ingredients for every Italian dish that you could ever wish for. From authentic pizzas and pasta to traditional desserts and pastries, it is one of the most exciting places to be. Downstairs they serve gelato and cappuccinos. Upstairs you can eat at a restaurant with a cute patio or buy fresh produce and other food items. Eataly even gets interactive, allowing you to make your own Neapolitan pizzas as well. Their pizzas are fluffy and their pasta is so enjoyable. It really feels as though you are browsing an Italian marketplace when you come here.
Vernetti
Vernetti is a local restaurant located on Larchmont. It is so unique and it feels as though you are part of the chef's family when you dine here. The atmosphere is modern, but tasteful at the same time. They offer breakfast and dinner items that are both splendid. I would recommend their divine Pappardelle con funghi (flat and wide spaghetti with mushrooms), Burrata salad (I love burrata and think that anything with burrata is delicious) and inviting warm spiced olives.
From the moment you walk through the door and eat the first bite from these five restaurants, your taste buds are transported to your favorite films set in Italy. Follow @avas.eats1 on instagram for more articles about my favorite restaurants in Los Angeles and around the world. Ciao!