From March 9 to March 18, Marlborough Ensemble Theatre (MET) performed their production of "Lord of the Flies," an adaptation based on the novel of the same name written by William Golding in 1954. 
MET is an elective and after-school theater program that is composed of 10 juniors and seniors. To be accepted into the program, students must complete theater prerequisite requirements and go through an extensive audition process. MET provides students with the opportunity to develop their artistry in a theater environment through productions such as "Lord of the Flies."
The production of the MET play differs from the all school or middle school plays as it is a year-long class, so it has a much more centered focus. 
"Because it's a class, there's a lot of collaboration between me as a director and the students," Performing Arts Instructor Kristi Schultz said. "For me, a lot of the class is about students cultivating their artistic voice and experiencing a collaborative atmosphere, so I go to them a lot."
Throughout the school year, Schultz and the students made changes to the theater adaptation of "Lord of the Flies." The novel follows a group of British boys who are stranded on an deserted island and attempt to govern themselves. However, MET sought to modernize and create resonance between the actors and the script. To accomplish this, Schultz and her students shifted most of the characters' identities to female and updated the script's outdated language to give the play a more realistic tone.
Schultz chose the play "Lord of the Flies" in November following strong excitement and approval from the students. The topics of the play include fear, power dynamics and civilization that arises on  a stranded on an island, presenting an exciting challenge for students. 
The production of the play was also accomplished with assistance from Technical Director Michael Fountain and the Design Collaborative class. Between Fountain, Schultz and both classes, there were many discussions about how the Intimate Theater could be utilized to create an immersive and detailed island setting despite the limitations of a small space.
"The number one challenge with the play right now for me and everyone is the space," Schultz said. "It's very small, and trying to get the sense of 'that's a mountain!' We are using a great deal of projection in order to create the environment, texture, lighting and sound."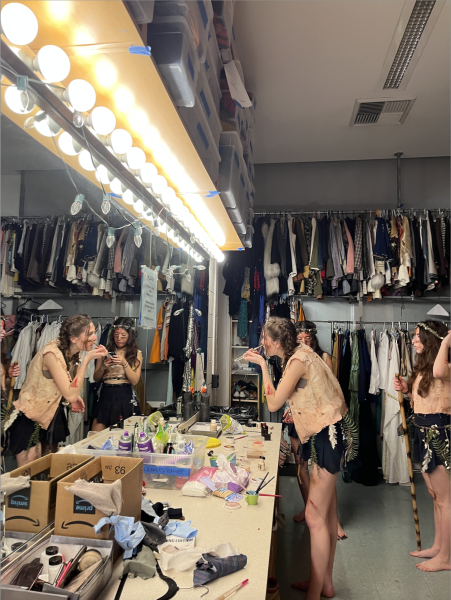 With older and more experienced students, the group was able to take a different approach and go deeper into important theatrical components. For example, the play was more bloody and gory than previous productions, as the group of students and the actors were older in age. 
"I feel like we can take more risks because it's a smaller house, it is more intimate and it's older students — it feels like we can go just a little bit farther than we normally get to go," Schultz said. "When it all comes together, it is so impactful to have in Intimate because when you are in the audience, you feel very close to all the action."