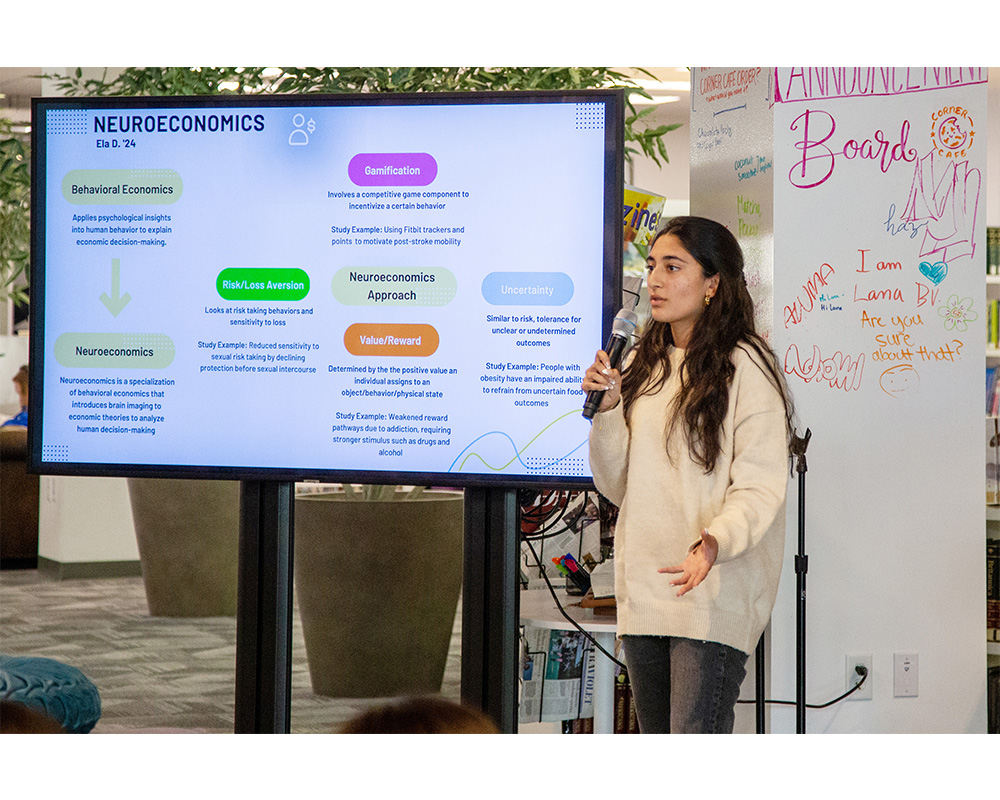 From Jan. 17 to Feb. 3, 65 Honors Research and Capstone students presented TED-style talks to the Marlborough community in the Center of Entrepreneurship and Innovation.
The Honors Capstone in Social Justice, Honors Capstone in Entrepreneurship and Honors Research helped guide students through the development of their presentations. Although these talks only lasted around five minutes, they required months of preparation.
"Most students work with the program heads to plan their talks in advance, practice, develop clear slides, etc." Interim Director of the Center for Entrepreneurship and Innovation and Leonetti/O'Connell Honors Research in Science Program Head Allison Ponzio said.
According to Ponzio, TEDxMarlborough benefits both older and younger students.
"Younger students, like those taking Intro to Research, get an opportunity to see the types of projects they could pursue," Ponzio said. "Older students get a chance to share their projects with the community."
In the process of completing their projects, students learn research and presentation skills. Honors Research student Wyeth'24 shared her experience participating in the program.
"TEDxMarlborough has helped me develop the skills to craft an educational presentation that will appeal to a wide range of ages," Wyeth said. 
Topics were chosen based on the passions and interests of the presenters. Eli '24 focused on the influence the Cold War had on the rise of superhero comics.
"I wanted to share something that people could easily relate to and find interesting regardless of what background knowledge they already had," Eli said. 
Attendees at TEDxMarlborough were engaged and supportive of those presenting. Many students in the audience were excited as they had an opportunity to learn about the various interests of their classmates.
"The presentations were both exciting and fascinating in my opinion," viewer Matteson '25 said. "It opened up new avenues of research for me that I had never considered."