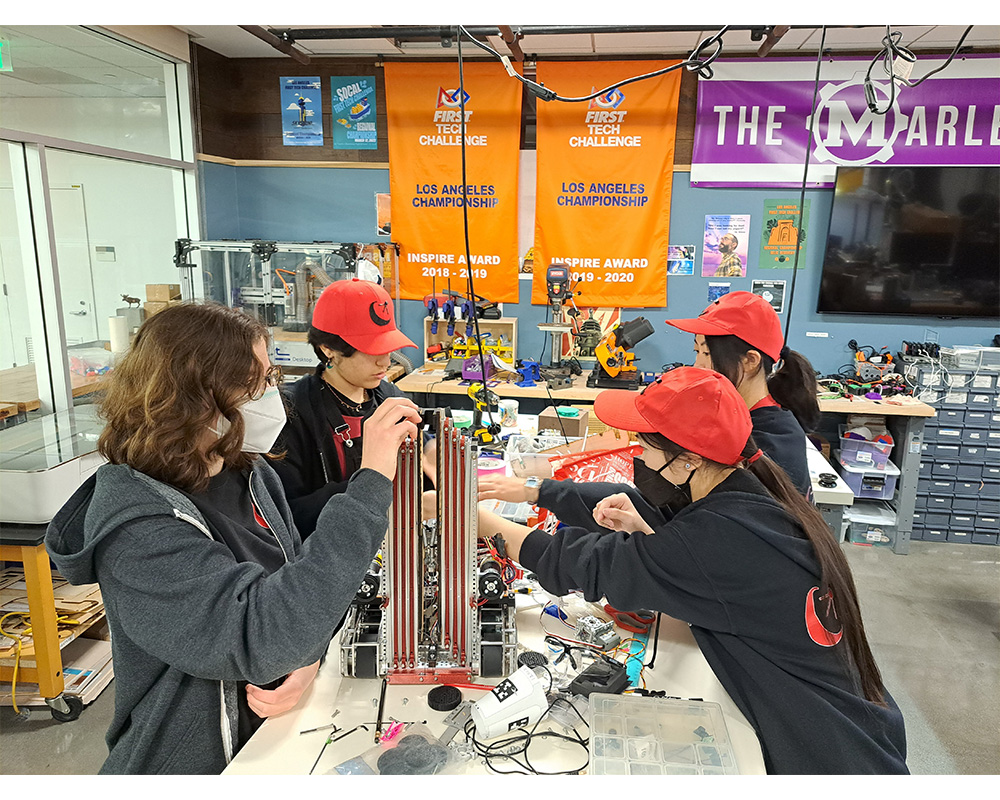 From programming their robot to teaching elementary students engineering, Marlborough's five robotics teams have been preparing for their upcoming events while engaging in community outreach this season.
Helios, the 8th grade team, Cosmos and Asteria, the 9th grade teams and Marlbots and Curiosity, the Upper School teams, are all competing in FIRST Tech Challenge (FTC), a robotics competition for students in grades 7 through 12.
The teams participate in four league meets and one qualifying tournament annually. They will compete in the Inter-League Tournament (ILT) in early February.
At this point in the season, Marlborough's teams have multiple meets under their belts and are concentrating on the upcoming ILT. Successful results at ILT will ensure that the teams earn a spot at the 2023 VEX Robotics World Championship in April.
Robotics and Fabrication Program Head and Robotics Coach Andrew Witman is excited by how the teams have been developing their robots.
"Things have been going really well, from my perspective," Witman said. "All five teams have really great robot concepts that are all very different from each other, which I'm proud of."
Marlbots Captain Max '23 explained where the Marlbots are in the design process. 
"We've already gone through three iterations of our robot, so we're on our fourth iteration," Max said. "Right now we're trying to optimize it, so we're using code to make the mechanism stronger."
In addition to refining their robot, the Marlbots have been engaging with various forms of outreach. In mid-January, they met with a new FTC team in Brazil.
"It was really fun helping them out as a more veteran team," Max said. "They told us about some of their really impressive outreach, and we talked to them about how we teach a lot of underrepresented groups in STEM coding and engineering skills."
The Marlbots also teach engineering workshops to hearing-impaired students through the No Limits for Deaf Children program and coding to chronically ill children through CoachArt.
Curiosity team members have been raising donations for The Trevor Project and Kitten Rescue and taught an engineering class for elementary kids at the Mar Vista family center for underprivileged youth.
"It was super fun and fulfilling to help kids learn about physics and the design process in cool, interactive ways," Curiosity member Chesney '23 said. "Both the kids and the team had a lot of fun."