By Evaa '23, Abigail '24 and Dalton '24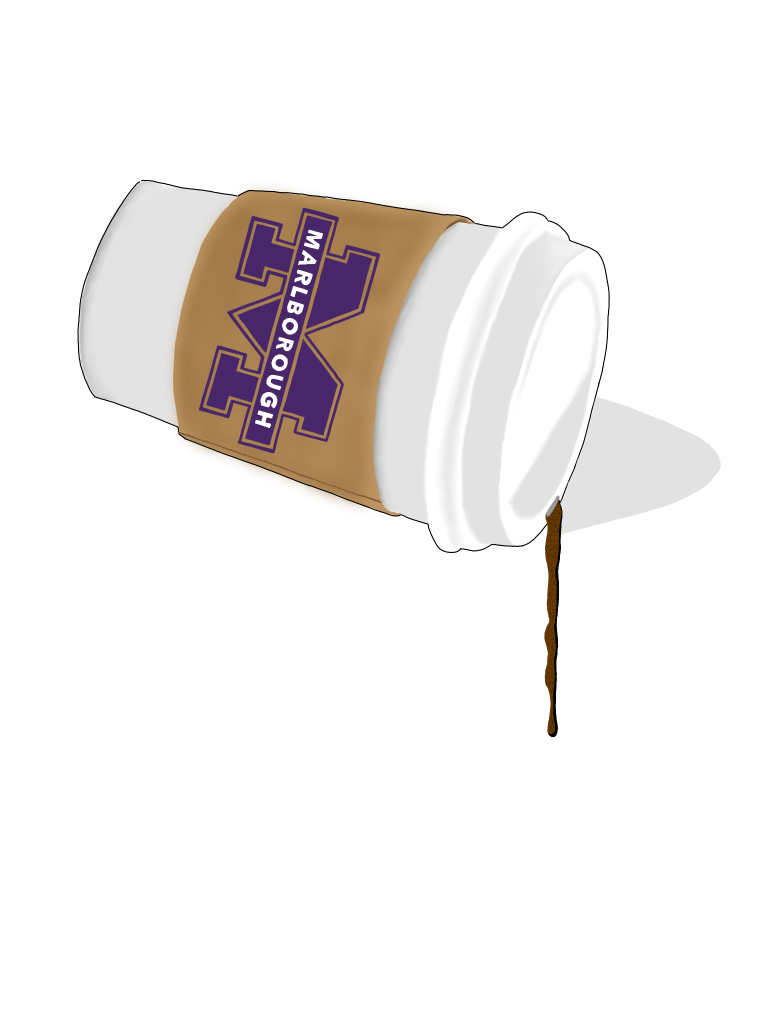 Marlborough's 2022-2023 Student Handbook of Expectations states that "[Marlborough] discourages the consumption of caffeine by our students for a number of reasons. Energy drinks, which are high in caffeine, are not allowed and cannot be consumed by students while at school." This rule has impacted school policy, preventing the sale of coffee in Café M. Despite this, lattes still run rampant within our ever-graceful halls.
In a survey sent out to Marlborough's students, 73% of the 200 respondents from all grades indicated that they drink caffeine. The type of caffeine intake varies, with the most popular beverages being tea, coffee, soda, energy drinks and energy shots, respectively, in descending order.
"Personally, I enjoy coffee because it's really customizable," one student said. "One day I'm feeling a vanilla latte, while the next I'm craving an iced Americano."
On the other hand, many students prefer tea.
"My favorite caffeinated drink is iced tea!" a respondent said. "It's sweet and refreshing, but for the most part, I don't feel like I'm going to break down from it."
The frequency of caffeine intake among respondents varies, with 30% of students drinking caffeine three to five times a week, 25% of students drinking it once a week, 16% of students ingesting caffeine once a day, 13% of students more than once a day and less than 7% of students drinking it once a month.
Caffeine is an important aspect of senior Lily's '23 daily routine.
"I drink about two to three Starbucks ventis a day, one before school, one after school and sometimes one when I'm doing my homework," Lily '23 said.
Most students who drink caffeine on a regular basis do so to stay awake, throughout all parts of the day.
"I drink caffeinated beverages because it helps me get through the day and complete all of my late-night homework without falling asleep, as I do not get a full eight hours of sleep," one survey respondent said.
However some students do drink caffeinated beverages for the taste.
"Surprisingly, I don't need caffeine to keep me going throughout the day," an anonymous student said. "All my friends, though, they live on caffeine."
While most students drink caffeine regularly, a large portion of Marlborough students do not. Around 27% of survey respondents indicated that they do not drink caffeinated beverages, for varying reasons. One of the most common reasons among these students was a strong dislike for the taste of caffeinated beverages.
Most respondents also indicated that their reason behind choosing not to drink caffeinated beverages was the negative health effects, such as its interruption of the sleeping process or its addictive nature.
"I don't wanna get addicted and become dependent on caffeine to feel my best," one student said. "I'd rather prioritize sleep."
Research shows that continued consumption of caffeine can be detrimental to teens in several ways: stunting their developing brains, affecting them throughout the day and creating negative long-term effects.
First, teens' brains are still developing. According to Interim Director of the Center for Entrepreneurship & Innovation Leonetti/O'Connell Honors Research in Science Program Head and Science Instructor Allison Ponzio, until a person is in their 20s, their brain has a lot of plasticity.

A teen's brain is figuring out its pathways and structures.
In an April 2021 study conducted by the National Institute on Drug Abuse, researchers found that coffee can harm cognitive development. The study tested subjects in seven areas: vocabulary comprehension, reading decoding, inhibitory control, working memory, episodic memory, cognitive flexibility and processing speed. The results of the study indicated that participants who drank more caffeine didn't perform as well in the seven areas tested.
Caffeine negatively affects a person two times after consumption. The first point is right after the caffeine runs out. A Marlborough student who stayed up late doing homework and wakes up tired will crash after their caffeine runs out, thus being more fatigued than when they woke up. Secondly, caffeine also impacts a person when they are trying to fall asleep at night. Caffeine consumption suppresses the amount of slow-wave sleep a person gets, which is the type of sleep needed for recharging.
The third way caffeine negatively impacts people is through its long-term effects, particularly on sleep. Caffeine creates a reciprocal relationship in which a person will drink caffeine to mitigate their lethargy. But, as a result of consuming caffeine, they won't experience the amount of slow wave sleep that they need. This leads to a pattern of insomnia. The development of insomnia can negatively affect a person's performance at work, school or in their daily tasks.
"The more I teach, the more I see this problem of insomnia in younger people, and a lot of the research relates that to continued caffeine consumption," Ponzio said.
According to Ponzio, the concern around teens drinking caffeine is currently less about coffee and more about energy drinks. Marlborough currently prohibits students from drinking energy drinks that are high in caffeine. Caffeinated drinks impact students based on how high their milligram amount is. Since most people don't track the amount of caffeine they drink, they are unaware of how high their consumption is, often forgetting about caffeinated drinks such as soda or matcha. Thus, teens often consume more caffeine than they are conscious of.
"Be strategic about how you're using caffeine, recognize that it is a stimulant, a legal one at that, and adults also abuse it, but just really … use it purposefully, use it responsibly and rationally," Ponzio said. "I recommend 100 milligrams, but keep it to 200 milligrams max."
Despite years of coffee being highly requested and sought after at Café M, Marlborough has never offered coffee to its student body due to its high caffeine levels. In fact, there is an actual rule to prevent students from drinking coffee. Director of Middle School Sean Fitts connects this rule to science.
"The brain is developing. There are lots of changes at this age, and caffeine has been shown to disrupt that," Fitts said. "You have to take all research with a little bit of skepticism, but there is not a lot of research showing the positive impact [of caffeine] on teenage brains."
Year after year, Marlborough has stayed true to its rule. Junior Lily '24 still brings coffee to school every day and believes that her morning would run much smoother and stress levels would be lowered if Marlborough served coffee.
"It would keep students awake during classes and people would be more engaged," Lily '24 said. "I don't think you would drink coffee more regularly than you do outside of school."
As Marlborough cannot control what students consume or drink outside of school, the school can only hope that they are educating their students to make healthier choices. Interim Upper School Division Head Regina Rosi Mitchell says that by having the administration restrict caffeine on campus, the school promotes avoiding it at all times.
"We always try to make the most informed decision," Rosi Mitchell said. "All of our decisions are backed in research and data that ultimately is hopefully supporting the development of all students."
Yet, Marlborough's lack of coffee hasn't stopped students from drinking caffeine, as some of the most popular drinks at Café M in the past year have been caffeinated, iced black or green teas. When a middle schooler was spotted carrying this tea, she said that she was drinking it for the small amount of caffeine. The average cup of coffee has 95 milligrams of caffeine, for comparison, the Café M teas have roughly 20 milligrams. This means you would have to have multiple bottles of this tea to reach one cup of coffee.
Caffeine, technically speaking, is a drug that can be highly addictive for teens, which is a clear reason behind Marlborough's decision to not sell it.
"We're not restricting you, we're giving you guidance," Fitts said. "This is the best information we have at the time, and we are trying to set procedures that best limit it [caffeine intake], but this is the most we can control it."
Even after hearing the administration's argument, upperclassman Clara '24 remained committed to her opinion as she sipped her morning coffee.
"It's hard to put a limit on these types of things," Fenske said. "I think people have caffeine addictions regardless of whether it's bought at school."