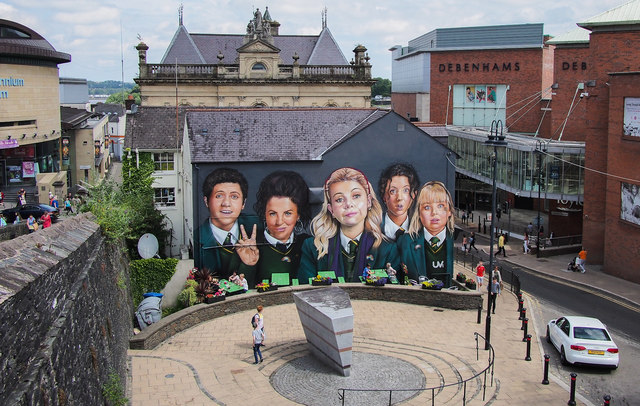 Netflix has had its hits and its misses. When the company isn't producing the "Kissing Booth 3," otherwise known as "God's Punishment for Our Sins," their original TV shows can be charming, funny, and even sweet. When I heard that the Netflix Original "Derry Girls" was going to end after its third season, I decided to revisit the show and I was reminded of why I love it so much. I thoroughly believe that everyone should watch "Derry Girls", regardless of its cancellation.
"Derry Girls" is about five teenagers growing up in Northern Ireland in the 1990s. Created by Lisa McGee, this show is one of Netflix's best originals because it is an original idea with lovable characters. Not enough people appreciate "Derry Girls," and I'm not exactly sure why that is. It might be because the streaming service doesn't give it the same level of promotion as "Sierra Burgess is a Loser," my favorite horror film released to date. Similar to "Freaks and Geeks" (see my September review XOXO), it portrays teenage truths while maintaining humor—and it also gives a history lesson!
"Derry Girls" is set in 1990s Londonderry, Northern Ireland—omg grunge—as the Troubles (a period of continued violence in the area) raged. The IRA was fighting to incorporate Northern Ireland into the Republic of Ireland. Their opposition was the loyalist paramilitary, who wanted Northern Ireland to remain a part of the United Kingdom. Since Londonderry was a hotspot for violence during this time, the main characters of the show navigate an all-girls Catholic high school while also hoping for a peace treaty.
The main characters in "Derry Girls" are Erin, who is creative but occasionally selfish; Orla, Erin's eccentric cousin; Michelle, Erin's edgy friend; Claire, the not-so-edgy friend; and James, a boy who was raised in England and is Michelle's cousin. James attends the all girls school, leading to funny banter about him being a "wee gay fella." The characters and their relationships are the most endearing part of the show—they are both funny and unique. My favorite character is Orla, whose devotion to step-aerobics and heartwarming love for her grandpa will win over every viewer. Whether it be their various encounters with Catholic nuns or when they sneak out to see a concert, the group's adventures are fun and never hard to watch. "Derry Girls" is very well-written and a good choice if you like shows like "Sex Education" or "Parks and Recreation". My only criticism is that "Galway Girl" by Ed Sheeran isn't on the show's soundtrack, but I guess in the 90s dear Ed was still a wee lad.