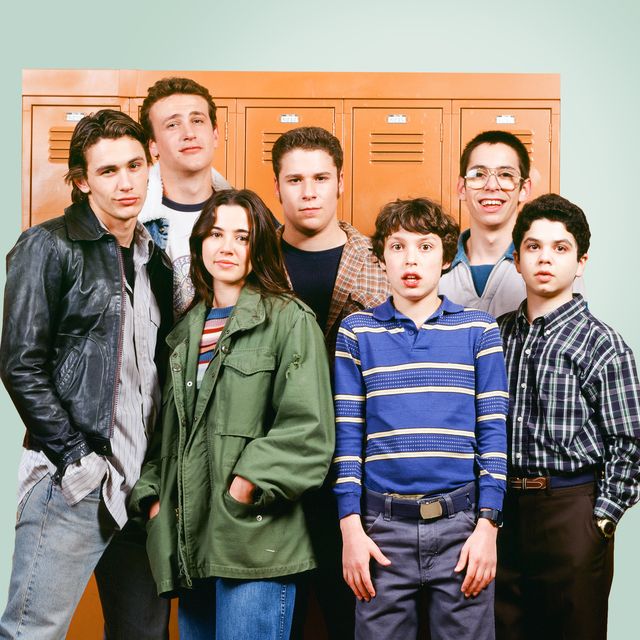 Yes, you read that title correctly. What I'm recommending today is Freaks and Geeks, an incredibly unique and underground piece of American media. I am absolutely enlightening you with my review of this show that you have never heard of. I watch it and I can feel the nicheness coursing through my veins.
In all seriousness, it's a really good show. I wanted to share some things I've been enjoying lately, and I immediately thought of Freaks and Geeks. It's a cult classic TV series created by Paul Feig and produced by Judd Apatow. Set in 1980, it follows the Weir siblings in their individual but often overlapping journeys through highschool. Lindsay Weir is a highschool junior with a quest to become a Bad Girl™ instead of a Nerd™, while her brother Sam Weir is an insecure freshman who is bullied by his peers. Despite featuring James Franco (who was accused by multiple women of sexual assault in 2018), this is a really great show that had the bad luck of getting cancelled after one season. The show realistically depicts high schoolers by presenting them as a certain stereotype, i.e. "freak" or "nerd," and then turning that stereotype on its head. The complexity makes the characters feel incredibly real and demonstrates the show's great writing.
I love the costumes in Freaks and Geeks, but that appreciation is really an extension of my love for the show's realism. Characters rewear clothing, whether it be Lindsay's army jacket that's in almost every episode, or Kim Kelly's two pairs of pants that she alternates between. When fictional characters wear a different outfit every episode, it automatically diminishes their relatability, because no one can afford to dress like that, besides maybe some Gossip Girl characters (or their Marlborough equivalents). Each character's personality is present in their clothing choices: Nick Andopolis is a passionate drummer who wears band t-shirts, Neal Schweiber is always in sweater vests or collared shirts that match his nerdy personality, and Lindsay's friend from her "geek" days, Millie Kentner's conservative tendencies are mirrored in her modest clothing choices.
Freaks and Geeks has something for everyone. Since the show is set in 1980, it will satisfy those 8th graders who crave "vintage vibes" and make Heathers fan edits. Additionally, a lot of Marlborough students will likely identify with Lindsay Weir as she tries to balance being studious and having fun. I love this show because the characters feel like real people with complex emotions and complicated relationships, and the writing feels natural. I definitely recommend it to everyone, no matter where you feel you fall on the scale of Geek to Freak.