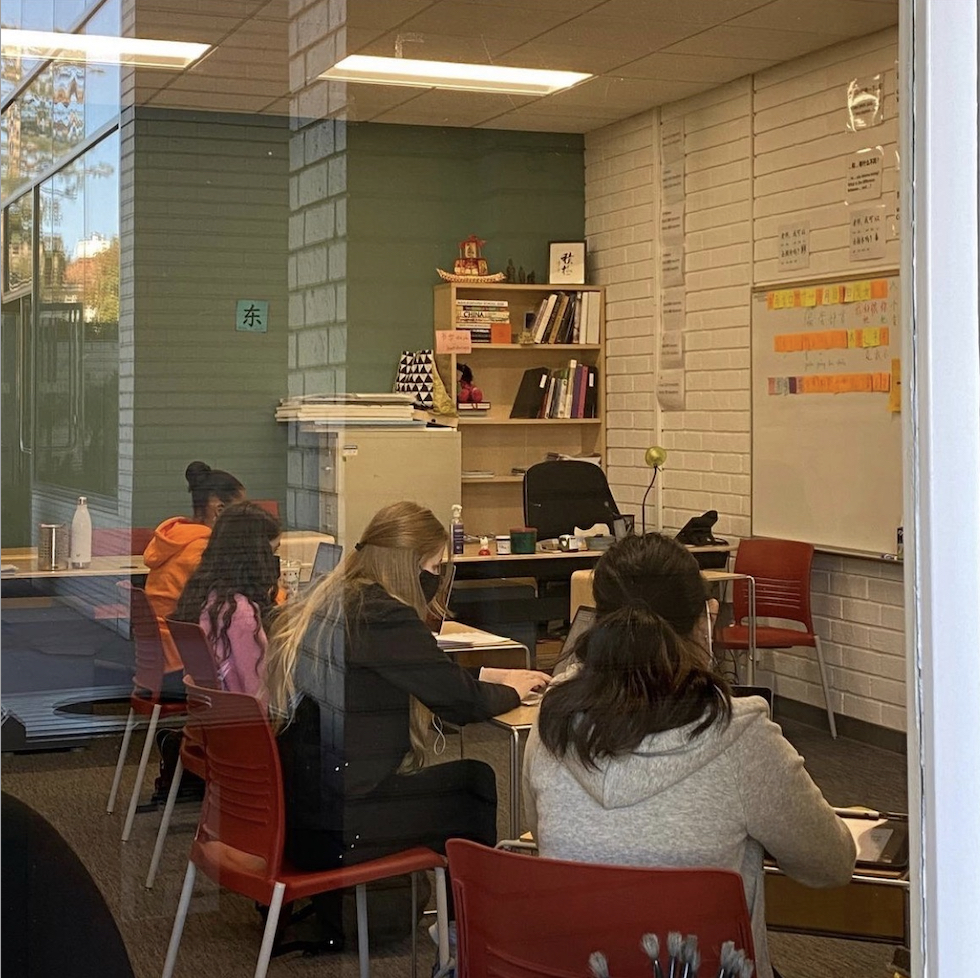 By Anya '22 and Macy '22
With Los Angeles County's official move to the red tier of the Covid-19 California state monitoring list, the Marlborough administration has been planning students' return to campus for hybrid learning following Spring Break. Given the many safety concerns and new hybrid format of school, faculty have been vigorously researching and planning ways to safely and effectively implement a hybrid learning environment.
"We are going to stay in cohorts—two cohorts," Head of School Pricilla Sands said. "But, we're going back. Finally, almost a year later. Students will be able to see each other and faculty, which they have been longing for for so long."
The two cohorts that students are split into are Violet and Marigold. On Mondays and Tuesdays Violets will attend in-person school, and Thursdays and Fridays will be reserved for Marigolds; on the days a cohort is not on campus they will Zoom into class and remain interactive with the students sitting in-person. The current Wednesday assessment days will be maintained online and Violets and Marigolds will be offered on alternating weeks to attend activities in-person, including PALs events and small group gatherings, in the afternoons.
"We want to make the transition as smooth as possible for students," Sands said. "We have a whole big team working to make sure everything—safety, learning, transportation—work for the students."
Safety tops the list of large concerns for students and faculty alike. Despite numerous faculty vaccinations, risk of carrying the disease and spreading amongst students are still causes for concern. To that end, Marlborough has extended the honor code to encompass Covid-19 provisions, such as honesty about traveling (which would require a 10 day quarantine before returning to campus) or staying home if a person was in contact with someone carrying Covid-19.
"Nothing will work unless we take our plan very seriously," Sands said. "We have accounted for many factors and have advanced technologies for the classrooms, but we don't want to shut down. We need students to take the honor pledge very seriously."
On the administration side, the school has done extensive planning to implement safety measures on campus. For example, students will eat outdoors and be socially distanced. The school had to adjust its initial plans to account for lunch.
"I think that finding places for breaks where kids can eat, that was a thing that pretty early on was like 'that's right, we can't be all masked and distanced and then everybody take their masks off and eat in a classroom, so we need to figure out something else,'" Dean of Student Life Brett Quimby said.
Students will be tested each week for Covid. However, this is not the only precaution the school is taking.
"I want to make sure that folks know that with testing it's an added layer," School Nurse Olivia Ceja said. "You know with Swiss cheese there are a lot of holes in it and adding that layer of testing helps fill some holes that other slices of cheese may have, but it is not the only slice in that giant block of Swiss cheese."
Many of the school's plans for reopening have evolved in response to changing protocols, according to Human Resources Manager Cliff Hahn, who served on the Health and Safety Taskforce.
"A lot of what this work has been is, it is sort of a continuous reevaluation," Hahn said. "So much changes so quickly with Covid that even conversations about cohorting, we might have an idea about cohorting one week and it ends up evolving within the week to be sort of a very different cohorting situation."
Approximately 85% of Marlborough families indicated that they are planning to return to school in-person. Some decided to return because they prefer hybrid schooling to distance learning.
"I plan on returning to school because I miss seeing people in-person and also online school is just weird and different in general," Maniya '26 said.
Additionally, many seniors want to return in order to go to school in-person before they graduate.
"It's my senior year so this is really the last time I'll ever be able to be back on campus as a student, so I couldn't pass up the opportunity to come back to school in any capacity!" Micah '21 said.
Many new students are looking forward to being able to attend in-person classes for the first time.
"I am most excited to meet my new classmates, peers, and teachers and actually see them, instead of looking at them through a screen," Maniya said.
However, other students are not planning to return because of the risk of contracting Covid-19.
"I will not be returning to campus as my parents run a small business and if there was any risk of me having Covid they would have to completely shut down and it would affect a lot of people's sources of income," Tommie '21 said.
Some fear that not all students will follow the Covid protocols.
"I remember during senior cohorts a lot of seniors didn't stay in their cohorts and we even had a small Covid outbreak, so it makes me concerned as to on what scale that will happen again," Tommie said. "I don't think it's an if it will happen, but rather when it will happen. I think most students will be responsible and follow vacation protocol and safety measures, but all it really takes is one person."
Although hybrid learning will not be the same as school pre-Covid, many people are still optimistic about the new form of schooling.
"It won't be the usual what everyday Marlborough was before Covid-19," Ceja said. "But, what I will say is that there is a lot of adaptability and beauty in the adaptability…It's going to be a new normal, and even then it is not going to feel completely normal, but that's okay, we are adapting."
Have questions about the return to campus? See the UltraViolet's FAQ