By Claire '23 and Rebecca '23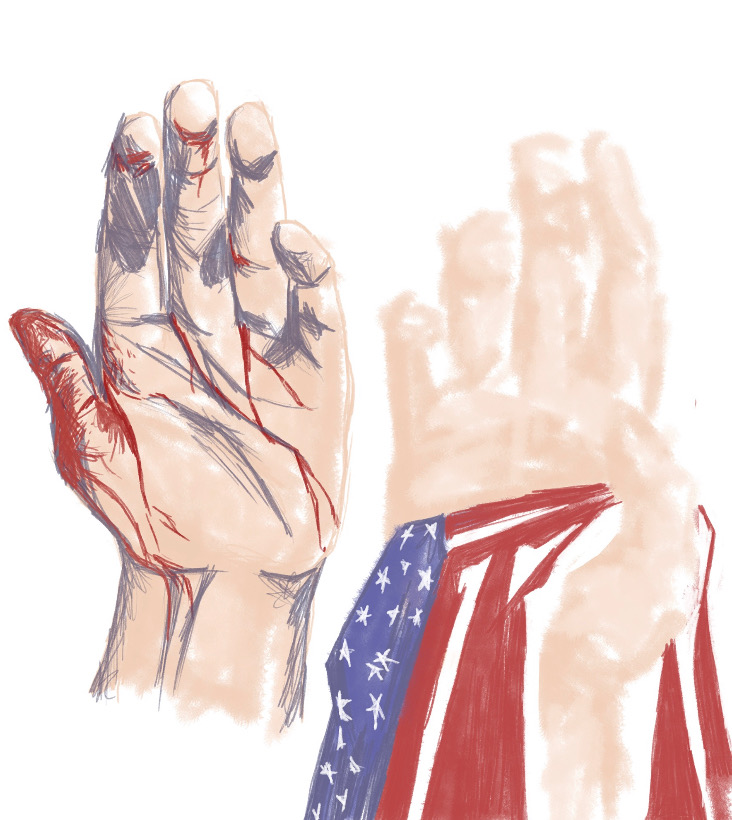 The Events of January 6th
Upon receiving a text from her friend about the insurrection, Marlborough sophomore Anabel '23 immediately turned on the news. A mob of Trump supporters violently raided the U.S. Capitol building, assaulting police, breaking windows and vandalizing lawmakers' offices and the House floor for hours. The rioters aimed to violently prevent the electoral college certification of then President-elect Joe Biden. While they were unsuccessful in stopping the certification, the effects of the riots were historic. On January 13, the House of Representatives voted to impeach Trump, making him the first ever president to be impeached twice. Former President Trump was charged with "incitement of insurrection" for his significant role in the occurrence of the event.
"I couldn't take my eyes off it. The scenes were almost apocalyptic and I felt so angry," Anabel said.
While members of the Marlborough community and Californians were surprised by the events of the insurrection, other Californians approved of the message of the Capitol building rioters. As a largely left-leaning state, California seems at first glance unlikely to participate in Trump's call for violence. However, his call for his supporters to object to the outcome of the election and COVID regulations reached Californians. During a coronavirus briefing in April of 2020, Trump was quick to make the unsubstantiated claim: "mail ballots—they cheat." He posted "Liberate Michigan" to his social media account to encourage resistance of stay-at-home orders and business closings. When election results finished rolling in and Biden was declared the official winner on November 7th, Trump stated the election was "rigged and stolen." On the day of the insurrection, he told his supporters: "if you don't fight like hell, you're not going to have a country anymore." Trump's rhetoric resonated with some Californians, mainly in rural and conservative northern counties.
One day before the riot at the capital, dozens of protesters stormed Shasta County supervisors' chambers in Redding, California to object to government imposed coronavirus restrictions and to express disapproval of Biden's presidential victory. Carlos Zapata, a Tehama County business owner who attended the protest, threatened to use violence against politicians who opposed continuing COVID regulations and the reopening of businesses. Zapata is quoted by The Los Angeles Times saying that American citizens need to "make politicians scared again."
Social Media
Social media played a key role in both the formation and aftermath of the insurrection. According to WBUR, President Trump's use of the platform Twitter promoted false claims of an unfair election, while other platforms popular with the right-leaning community, including Parler and Telegram, were used by his followers to rally and organize.
Annabelle '23 believes that social media propagated the myth of election fraud.
"Social media was a significant factor in pushing people, who were already far right, over the edge to storm the Capitol," she said.
However, despite social media aiding the rioters, it has proved to be a double edged sword for these insurrectionists. Photos and videos shared through the same platforms that promoted the insurrection are now helping authorities to unveil the identities of the rioters.
Additionally, since the insurrection, President Trump has been banned from many prominent social media platforms. According to USA Today, YouTube had indefinitely suspended the former president's accounts, while Snapchat and Twitter have permanently banned him. Facebook, which has also indefinitely suspended President Trump's accounts, received an appeal from him for his accounts to be restored.
Social media's echo chambers and uncensored content can rally a community, as shown through the Capitol Building insurrection. On the other hand, the same tools that were used to organize the rioters lead authorities to their identities. As Amelia '23 said,
"I think that social media has this major effect on people because it tells people what they want to hear, and helps them believe what they want to believe. Social media has no limit."
Marlborough's Response
Following the insurrection, Marlborough organized a Critical Incident Team composed of teachers and administrators aiming to address the insurrection at the Capitol. This team includes History and Social Sciences Department Head Jonathon Allen, Associate Head of Academics and Director of Upper School Laura Hotchkiss, Director of Middle School Sean Fitts, Director of Educational and Counseling Services Marisa LaDuca Crandall and Middle School Psychologist and Dean of Social and Emotional Learning Morgan Duggan.
According to Hotchkiss, the CIT had three objectives: finding resources to share with the Marlborough community, planning for history classes and providing spaces for students to process and come together. Allen believes that one way to create a safe space is through history classes.
"This is a school… I am proud to say, that honors and values perspective and information and getting that information right," Allen said.
A survey sent out to the Marlborough student body recorded that 96% of respondents discussed the insurrection in their history course. Classroom discussions about the insurrection spanned from interactive Padlet activities to conversations about the insurrection's impact on students emotionally.
Many of the survey respondents expressed gratitude for the discussions that were held in their classes.
"It provides opportunities to discuss what happened, both in an informational and emotional context," one survey response read.
The survey also included questions about how the insurrection has affected the students' views on the nation as a whole. In response to the survey question: "Has the recent occurrence at the Capitol Building changed the way you view America and/or American politics? If so, in what ways?", many students expressed sadness and a loss of hope for America.
"I am just so disappointed in our country," one respondent wrote. Skylar '23 shared a similar view.
"Quite honestly I was appalled, not just by the fact that our (former) president incited the chaos on January 6th but also that the security response to the inexcusable violence was almost nonexistent in comparison to the police brutality that BLM protesters were faced with," Skylar said.
Though weeks have passed since the insurrection, it still looms large in the mind of many Americans. According to Insider, over 250 charges have been made for those who stormed the Capitol building, and this number continues to grow.
Additionally, President Trump's recent acquittal on February 13th from impeachment is a topic that many Marlborough students have opinions on.
"I wasn't expecting that he would be convicted but a small part of me hoped that democracy would prevail and that he would face consequences for the insurrection that he so clearly provoked," Alix '23 said. Anabel '23 held a similar view.
"I don't believe we can move on as a country the way Republicans say they want to without accountability," she said.
Impact on Students' View of U.S. Politics
Marlborough students' views on U.S. politics were impacted deeply by the insurrection. A number of students in the Marlborough community stated feeling disappointed or ashamed of the nation.
"I mean I always knew politics was a big thing, and people argue and everything, but these past years of when Trump was in office, all the riots and obviously the capital break-in have shown me it's much bigger than what I thought. It makes me a little scared for the future," one student said in response to a survey about the capitol insurrection.
Others' views were not changed; they believe the insurrection was a reflection of the deep, growing partisan division characterizing American politics and society.
As numerous Confederate flags were waved among a sea of Trump flags, America's long history of white supremacy was demonstrated in the mob of pro-Trump insurrectionists. With race being a defining part of American politics, students' views of America were impacted by the Capitol Police's failure to prevent insurrectionists from entering the building.
"I have seen plenty of acts of white privilege happening against black people i.e. police brutality. But, I haven't seen any with white people," said a student in response to a survey, "Now I know that first hand whites aren't prosecuted for things black people would have been killed for."
Another student commented in response to a survey similarly, saying "I think it made me feel ashamed to be American, with these people who think storming the Capitol building is okay, and it just revealed how much racism is still in the systems of today."