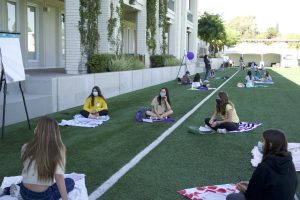 Marlborough has started to allow social gatherings consisting of small groups of students as of Monday, Nov. 9. These gatherings are for social reasons only, and are not allowed to contain academic lessons or material. In an email sent on Oct. 30, Marlborough outlined a "preliminary schedule" of class-wide meetings, starting with 10th graders meeting on Nov. 9.
The class of 2023 met on Marlborough's campus on Nov. 9 for Pin Ceremony, a Marlborough tradition that signals the students' transition from Lower School to Upper School. While Pin Ceremony usually takes place at the end of ninth grade, it was canceled due to COVID-19. The tenth graders were able to make up this tradition this year, although the event looked a little different than it has in the past.
Several safety procedures were in place, as students had to undergo a verbal screening, have their temperature taken, social distance and wear masks. Students were also split up into groups, with a new group coming to campus every 15 minutes. Each group had about 20 students. Once they had arrived, they proceeded down a purple carpet, were greeted by Head of School Priscilla Sands and received a flower and their pin from Head of Upper School Laura Hotchkiss. While the ceremony certainly did not look the same as it has in the past, Ava '23 feels that Marlborough did their best in recreating the ceremony.
"I think it was organized as best as they could given the circumstances, and they did a good job making everyone feel included," Ava said. "You didn't get to talk to that many people, but you could tell that they tried to make it as communal as possible."
Hotchkiss also felt Pin Ceremony was a success.
"It was very ceremonial, so there wasn't a lot of grouping together, but I think everybody got to see a couple friends… I think it was very joyful."
Another grade-wide event occurred on Monday, Nov. 16, as Marlborough welcomed the Class of 2026 onto campus for the first time. The day allowed seventh graders to meet one another in person, participate in bonding activities and get a feel for Marlborough's campus. The seventh graders were also able to walk a purple carpet, and were greeted with balloons. Students met in their advisory groups, and after about an hour and a half, the other half of the seventh grade was welcomed onto campus.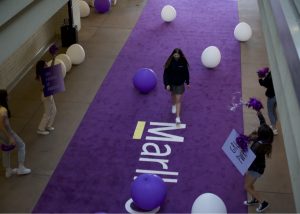 After the class of 2026, new eighth and ninth graders were also welcomed to campus on the same day. New students along with Council and a committee of Upper School students who were new in ninth grade met that day and played games and icebreakers. Natalie '24, a new ninth grader, felt that the activities were an effective way to meet other new students in a non-academic setting.
"We definitely were able to bond a lot and just get to know each other personally," Natalie said. "We got to know different aspects of each other that we wouldn't have known in class."
There has been a temporary postponement of on-campus activities, as the Marlborough community was notified in an email on Dec. 12 that there have been a total of three on-campus exposures to COVID-19. This information along with the "ongoing surge in cases," as the email states, led to the decision to close campus. The eighth grade, ninth grade, and eleventh grade on-campus gatherings are expected to be rescheduled after winter break, as will other small group activities and athletics.
Although COVID-19 has prevented the Marlborough community from being together all at once, the administration is finding ways to build up in-person events, and are looking to hold more in the future. Similar sentiments are shared by students, as Natalie shared her desire for more in-campus meetings in the future.
"I would definitely want to do more of them [in-person campus meetings], just because… I was able to have a lot of fun and it was just like a regular time when you would hang out with these people."