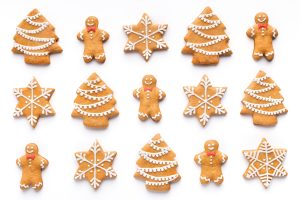 The first thing my dad said to me when I told him I wanted to be vegan was, "But aren't you going to miss dessert?" Two years and many vegan desserts later, I think it is safe to say that I have shown him how delicious they can be. If you're like my dad and believe that vegan desserts are not as good as non-vegan ones, I hope this article will help prove otherwise, since I've compiled some of my favorite vegan dessert recipes just in time for the holiday season!
Peppermint Brownies -: https://docs.google.com/document/d/1eXmkiL-oP4y-SpxJCpHSJrRJEDJh9Y6HvFKyWZx-Sfs/edit
As both a peppermint lover and brownie lover, I firmly believe that peppermint brownies are the greatest dessert invention of all time. I love the creativity of this recipe, as it is sweetened entirely with dates. If you're skeptical about that method, I understand; I was also hesitant to try sweetening brownies with only dates, but I am so glad I tried it. The dates make the brownies extra fudgy, and you can't taste the date flavor at all. Even my brother, who refuses to eat any fruit, loved these brownies and had no idea there were dates in the recipe. These brownies are also gluten free, so they are perfect for anyone who has gluten or dairy allergies. If you love brownies, I would definitely recommend making these sometime this holiday season.
Banana Bread – https://sweetsimplevegan.com/2015/10/date-sweetened-banana-bread/
Banana bread is my go-to dessert for a rainy winter day, and this vegan banana bread recipe is one of the best I have ever tried. It is moist and perfectly sweetened due to the use of bananas and dates as sweetener. The bread is also nut free and gluten free, so it is the perfect allergy-friendly dessert. I love baking this recipe for breakfast, bringing it to a holiday party or just curling up by a fireplace in the "cold" LA weather to enjoy this delicious recipe. If you're someone who loves adding toppings to your banana bread, I would highly recommend adding some almond butter or vegan butter to make this recipe even better.
Holiday Sugar Cookies – https://greenhealthycooking.com/almond-cookies/
Baking sugar cookies is one of my family's holiday traditions, so when I went vegan, I immediately started searching for a delicious sugar cookie recipe. Lucky for me, I found a simple, delicious recipe that I have been using every holiday season since I first went vegan. These cookies are made with only two ingredients: almond flour and maple syrup, plus some optional chocolate to dip them in. While they are simple, they are definitely not boring! These cookies are so flavorful and are especially delicious when dipped in chocolate. I love how easy they are, as they take less than five minutes to prepare. The batter is also perfect for molding into fun holiday shapes, which is my personal favorite part of making sugar cookies. If you're looking for an easy, vegan friendly sugar cookie recipe, I would highly recommend trying this recipe out.
As a lover of desserts, I strongly believe that one of the best parts of the holiday season is baking holiday-themed treats. So, I hope that these suggestions help you find some delicious desserts to try!