Dolores Huerta, one of America's most accomplished civil rights activists, spoke with Marlborough students during a historic All-School Meeting on Monday, Oct. 19.
The idea to bring this living legend to the school first arose when Chela '21 worked to include Huerta in her AP U.S. history textbook two years ago. When she read the section covering the United Farm Workers of America, Chela immediately noticed the lack of attribution to one of its two co-founders. Huerta is time and again overlooked in conversations spanning from the history of California to the Chicano movement. The iconic slogan she coined, "Si se puede," which is featured everywhere from sweatshirts to presidential campaigns, isn't always attributed to her.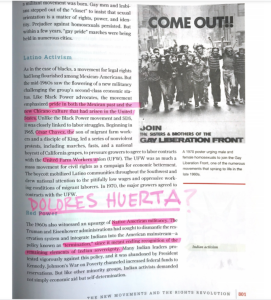 Huerta's unacknowledged accomplishments frustrated Chela greatly, prompting her to email the history textbook's author, Eric Foner, expressing the importance of including Huerta in the specific section. Within a day, Foner responded, impressed with her message and eventually added Huerta into the textbook.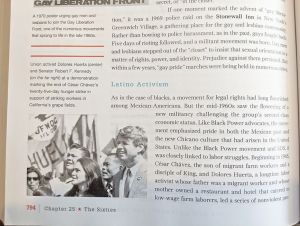 From there, Chela partnered with Dean of Social Justice and Community Partnerships Pamela Wright to reach out to the Dolores Huerta Foundation about the possibility of Huerta speaking to the Marlborough community. After eight months of determined planning, OLÉ, Marlborough's Latinx affinity group of which both Chela and Wright are members, was able to secure a date for Huerta to visit Marlborough.
The lack of attention paid to Huerta in history classrooms and human rights conversations was exactly what so strongly motivated Chela and Wright to bring her to the school as a guest speaker.
"It's really interesting to me that Cesar Chavez is a household name and hers isn't," Wright said. "I think that speaks a lot about the importance of women's roles in history."
Because of the virtual setting of this school year, a few members of OLÉ engaged in conversation with Huerta over Zoom for an ASM. Chela recounted the excitement that she and the other student interviewers were feeling before Huerta joined the call. They were able to have a long discussion that spanned over the course of three or so hours, asking her questions about her life story, humanitarian work and notable accomplishments.
Besides the parts of the pre-recorded conversation that were shown in the ASM, the OLÉ members and Huerta had a stimulating discussion about what it means to be a Latinx activist. That discussion is featured on Chela's new podcast "Never Walk on Tiptoes," which seeks to spotlight the voices of womxn, nonbinary artists and activists of color and is out on both Spotify and Apple Music. Chela admired how Huerta's extreme eloquence continued throughout the entire span of the call.
"The most active person on that call was 90-year old Dolores Huerta," Chela said. "She was so engaged and nuanced with every statement she made."
Dana '22, a member of OLÉ, felt so passionately about having the first Latinx speaker at Marlborough that she reached out to Wright and joined the group of students who spoke with Huerta. She recognized the immense value of representation in guest speakers at the school and was eager to be a part of an ASM that embodied such representation for herself and her fellow Latinx students.
"It was so inspiring to see that someone who looks like me and has the same culture as me can have such a big presence in politics and reform movements," Dana said. "It makes me think that I can do that as well."
During the conversation, Chela was able to tell Huerta about her accomplishment regarding the history textbook.
"Getting a direct response from her about how important it is for women to do these things for each other felt so awesome," Chela said.
When one of the students asked Huerta what she would want her legacy to be, she emphasized that her work served as an example of the power everyone has to make change. Kristina '23, a leader of OLÉ and one of the student interviewers, remembered this as one of the most inspiring moments that showed Huerta's humility and respectability.
"She was never doing any of the work for herself or for personal gain. She always wanted to help other people," Kristina said.
Due to the incredible nature of Huerta's story, the OLÉ members had many uplifting takeaways from the conversation. The part of Huerta's life and achievements that resonated the most with Wright was how relatable and ordinary Huerta's origins were, as she wasn't born into an activist family or to parents who were political officials.
"She was just a regular kid who witnessed these injustices and truly did something about it, and in a way that involved a lot of coalition-building with other groups, like the Filipino farm workers," Wright said.
Both Dana and Kristina were in awe of the way Huerta was able to break gender barriers and expectations that are inherent in Latinx culture. With her headstrong determination, Huerta overcame ideas of "machismo," or a sense of exaggerated masculinity, and created a new place for herself in a male-dominated space of protestors and changemakers.
After the ASM , Wright received overwhelmingly positive responses from students praising the immense cultural and historical significance of Huerta's presence at Marlborough. The positive feedback from students outside of OLÉ was very important to Wright, as it helped reassure her beliefs about the meeting's importance.
"It signals to me that students do find BIPOC civil rights heroes important, and they recognize how lucky we are to have speakers like this come to Marlborough," Wright said.