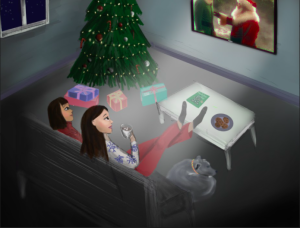 There will be no kissing under the mistletoe this year! While some holiday traditions will continue, others will have to take a hiatus. Marlborough students and faculty share how they will be celebrating the upcoming holidays in quarantine.
Bridget '21's favorite holiday tradition is decorating her house while listening to Christmas music and wrapping presents. Amber '21 loves to play dreidel with her family and light the menorah. Francesca '25 can't wait to open up presents on Christmas morning and ski in Sun Valley, Idaho. Science instructor Crystal Buckley is looking forward to snorkeling and scuba diving in the Virgin Islands with her family during the holiday season.
"Every day we will snorkel and be active, and when we could go to the theater, we usually go see a movie every other day," Buckley said.
Another holiday favorite in the Marlborough community is food. Eva '26 enjoys pastichio, a Greek lasagna, that her mom makes every year for Christmas. Buckley indulges in nontraditional Thanksgiving food such as crab, rabbit and elk with her fiancé. Maisie '22 enjoys her mother's baking.
"One of my favorite traditions is my mom making coffee cake on Christmas morning," Maisie said.
Due to COVID-19, a few holiday traditions will be left out this year. Annabelle '26 will miss The Nutcracker performance.
"My favorite holiday tradition is my ballet school's Nutcracker, because it is so much fun to be with other people and get to dance in front of so many people. I'm really sad we can't do it this year," Annabelle said.
Maniya '26 will miss the annual Christmas party she has been attending since she was born. Buckley will not be able to go to the movie theater after an active day in the Caribbean ocean, and her fiancé will have to quarantine upon arrival.
"I think we will both put on the same movie in different rooms and text back and forth about it," Buckley said.
Georgia '25 will miss traveling to Newport Beach to visit her mom's family.
"I actually will miss going over there, because I love playing football (A theater kid playing football- It's just as weird as you're imagining it right now) in the park, and I love feeling cool because I'm from the city," Georgia said.
Amber shares how quarantine has made her more faithful to her religion.
"I usually go to Christmas parties, but that's obviously not happening this year. COVID is making me a better Jew," Amber said.
In addition to holiday traditions, there are people the Marlborough community will miss as well. Dinah '25 will miss Christmas with her friends because she enjoys delivering gifts and cards to them at school. Jada '25 will miss her cousin, one of her best friends, whom she enjoys visiting every year.
Buckley will miss her 92-year-old grandfather.
"I hope this whole thing dies down sooner rather than later so I can see him again without putting him in danger," Buckley said.
Even though this year will look different, there are moments to look forward to.
" I am getting a live tree for the first time, so I am really excited," Bridget said.
Buckley enjoys her family's version of basketball.
"We take the wrapping paper, form it into spheres and aim for a certain lamp," Buckley said.
Maisie is excited to spend the holidays with her immediate family.
"I feel like it will be more relaxed compared to when I spend it with my entire extended family," Maisie said.
Emma '25 can't wait to decorate the Christmas tree with her family, who make it a tradition to buy a new ornament every year that symbolizes something that happened that year. She is also optimistic that people are going to put more effort into this holiday season in particular.
"COVID has limited the number of activities that can take place," Emma said, "so people will put in double the effort to make the season fun and festive.".