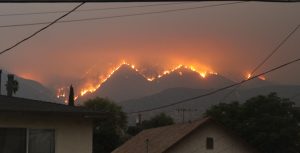 The recent fires in California and poor air quality as a result of the fires have been actively affecting Marlborough students both mentally and physically. In addition, there has been evidently less physical connection in the Marlborough community due to the pandemic.
In order to manage mental health issues as well as sports and exercise, students have been developing weekly workout routines. Additionally, Marlborough has even been offering socially distanced sports practices for the fall. However, the poor air quality and smoke have led to the cancellation of these events and regimens.
Marlborogh's Varsity Volleyball Head Coach Kathleen Luft, canceled these practices due to the severity of the fires and unsafe conditions. Instead, she provided at home workouts for athletes because of the hazardous air quality.
We were monitoring it very closely and concluded that the air was not safe to have our athletes training. Because of this, we sent an email with optional home workouts the athletes could do on their own." Luft said. Some students experienced physical responses to the poor air quality.
"The air quality has been so bad that the smoke has been burning my nose for the past week," Mikaela '21 said. "It got to the point where we had the air filter running 24/7, wet towels lined the bottom of doors, and we had evacuation bags ready."
The chaos from the pandemic, on top of the lurking fear of evacuation and health issues the fires have caused increased anxiety among students.
"I haven't been able to run or walk the dog, which has made me go crazy and probably become more irritated. Exercising usually relaxes me, especially outdoor exercise, and I've definitely felt more sluggish physically and mentally since the fires started." Mikaela said.
Currently, the fires have died down and the air quality has significantly improved due to the management of these fires. Health officials have now deemed it safe to continue outdoor activities and students are able to continue sports and workouts outdoors.