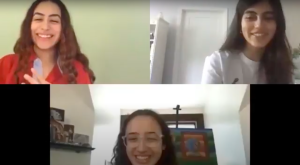 Yasmine '21, Heather '21 and Sophie '21 have revived and revamped MOSAIC, Marlborough's Middle Eastern affinity club. It all started over the summer, when Yasmine noticed that MOSAIC was not listed as a club for the 2020-2021 school year.
Since then, the three leaders have worked with Dean of Social Justice and Community Partnerships Pamela Wright and Director of Equity and Inclusion Jenn Wells over the summer to ensure that the club remained an open space for Middle Eastern and North African students and teachers to connect.
"It just felt important to have representation and to be able to have a safe space for students," Yasmine said.
Though the main goal of the club has stayed constant, one major change has been made: MOSAIC, having previously been categorized as a cultural appreciation group, is now an affinity group. According to Wright, there is a significant difference between the two.
"A cultural appreciation group is for people who identify as Middle Eastern or Arabic and for people who don't but would want to learn more about the culture… an affinity space means that it is only for people who identify within a specific culture or race," Wright said.
Heather also added that reviving MOSAIC as an affinity group has given the club a deeper purpose.
"It's really nice because we can go beyond just the basics of what MENA means… we talk more about shared issues and I think that that is really wonderful," Heather said.
Already, the club leaders have begun to plan and organize the MOSAIC program for this school year. The club leaders have also generated ideas such as a guest Middle Eastern artist, and a celebration of the Iranian New Year, Nowruz, in the spring.
"I am so impressed by how much work that they have generated, and in such a short amount of time," Wright said.
According to Sophie, the Marlborough curriculum may still have more room to grow in terms of its coverage of Middle Eastern culture.
"There aren't really any opportunities besides a group like this for students to learn more about their culture and to share their experiences with others who can understand where they're coming from," Sophie said.
With the recently highlighted racial and cultural injustice in our nation, affinity groups such as MOSAIC, which aim to amplify unheard stories, are a vital part of our society, according to Sophie.
"The most important thing about reviving MOSAIC is giving that small population of students the ability to really engage with their culture and to share it with people who are the same age and who they interact with on a daily basis," Sophie said.