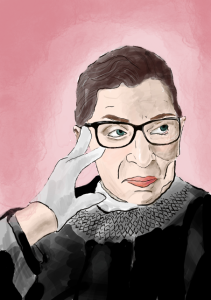 Ruth Bader Ginsburg, the second woman to serve on the Supreme Court, died on Friday, Sept. 18. Marlborough teachers and students reflected on Justice Ginsburg's legacy and shared their reactions to her death.
Ginsburg made a significant contribution towards combating gender discrimination in the law, according to Debate Program Head Adam Torson.
"She spearheaded a lot of the legal work in dismantling a lot of sex discrimination in the law," Torson said. "There was gender discrimination built into the law all over the place, throughout the state and federal government. The existence of a legal structure to combat that…means that a) she was implicitly involved in a lot of fights that she wasn't directly involved in and b) just think of the deterrence effect, all of the laws you couldn't pass because you know there is an architecture to prevent you from passing those."
Director of Honors Research Catherine Atwell believes that Ginsburg played a large role in advancing equality for everyone.
"For me Justice Ginsburg is one of the great icons of women's rights," Atwell said. "Even as she is often held up as an icon of white women feminism … she was always very cognizant of the effect of the law on … people from every walk of life. In many respects, she was pushing an intersectional feminist agenda for economic equality before that term was really in the mainstream."
History and Social Sciences Department Head Jonathan Allen acknowledged that while not perfect, Ginsburg played an important role in the fight for gender equality.
"Democrat, Republican, Libertarian, independent, apolitical or otherwise, you cannot deny that RBG is emblematic of a powerful woman committed to important causes," Allen said. "[T]hat being said, she is also an interesting case study to use when teaching history and current events because she's complex … RBG is symbolic of resistance and yet this contradicts her initial comments in 2016 about Colin Kaepernick's kneeling as "disrespectful" (though she later apologized). This complexity makes her fully human and should not diminish her incredible accomplishments and important life's work towards gender and racial equality."
World Languages Department Head Elizabeth Vitanza admired the strategic way that Ginsburg fought for women's rights.
"She was just very smart and strategic about how she fought for women's rights and I think that that's an important legacy," Vitanza said. "If you somehow frame your argument in a way that helps the majority understand your position you can accomplish a lot."
Ginsburg's legacy as a women's rights activist inspired students and teachers alike. Catherine '21 saw Ginsburg as a strong female role model.
"Justice Ginsburg symbolized hope for me," Catherine said. "She opened so many doors for women and gave them someone to look up to."
Many students and teachers at Marlborough believe that Ginsburg's death and the appointment of a new Supreme Court Justice will have large political implications.
"I think politically it is basically like throwing a Molotov cocktail into an already gasoline-soaked room, because the fight to replace her on a quick time table with someone who would disagree so frequently with her judicial philosophy is seen by many as kind of a slap in the face," Atwell said. "It also has very immediate potential impacts on decisions like Roe v. Wade [the Supreme Court Case that legalized abortion], on a variety of different civil rights, [and] voting rights cases… I think this is really a turning point for the United States."
Violet '23 is also worried about the effects that Ginsburg's death will have on politics.
"[Ginsburg represented] the thread that democracy was hanging on," Violet '23 said.
The increased political tensions after Ginsburg's death are the result of decades of polarization and voter suppression, according to Vitanza.
"This is the culmination of a lot of brokenness in our political system, from voter suppression to just like steady erosion of procedural norms in Congress," Vitanza said. "This is sort of the end result of that, not the beginning. But we might look back on it as a very important tipping point."
However, Vitanza also believes that Ginsburg's death is encouraging more people to become involved in politics.
"I know that some political groups and activist groups have raised tens of millions of dollars in the last few days and I have had friends reaching out to me wanting to get involved, so I think that people are realizing [the political implications of Ginsburg's death]," Vitanza said. "I am glad that it is reinvigorating to some people. That is the positive part of things."