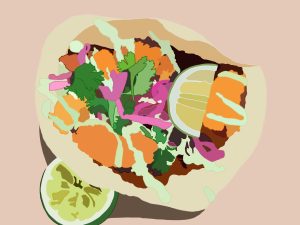 If you're vegan, vegetarian or have any dietary restrictions, you have probably experienced difficulties going out to dinner. I remember when I first went vegan, I ended up ordering a salad at nearly every dinner restaurant I went to because it was so hard to find vegan options. But over my two and a half years of being vegan, I have found a couple of delicious restaurants that provide tasty, well-balanced meals that are vegan friendly. Below I've included some of my favorite vegan friendly restaurants to order dinner from.
3. Granville
Granville is a great dinner location if you are looking for a slightly fancier meal. While they are currently not open for dine-in, their meals are still sophisticated, even when enjoyed from the comfort of your home. All of the vegan meals I have tried on their menu travel well and are perfect for delivery. However, as is typical with restaurants offering more sophisticated dishes, the prices are higher than those at the other restaurants on this list, with many dishes costing up to $25. Some vegan options at Granville include the lettuce cups with tempeh, the poblano quinoa bowl, and the thai ginger salad. Although Granville is not currently open for dine-in, it is available for pick up and delivery on UberEats, Postmates and directly through their website.
2. Fresh
Fresh is a trendy, relatively new vegan restaurant that has a large menu, beautiful decor, and the best buffalo cauliflower I've ever tasted. They have an expansive menu including a variety of delicious bowls featuring fun toppings such as crispy tofu, baked sweet potato and a wide variety of tasty sauces. They also offer vegan burgers, soups and tacos. Every dish I have tried at this restaurant is delicious, and there is so much to choose from! Personally, I recommend ordering the supergreen caesar salad, the powerhouse bowl or the buffalo cauliflower. The decor is absolutely beautiful as well, and I would definitely recommend dining at Fresh in person when it is safer to do so. Unfortunately, given current circumstances, the restaurant is not open for dine-in. But you can still enjoy their tasty meals by ordering in! Currently, you can order from this restaurant on Doordash, Uber Eats, and directly through their website.
1. Mercado
With its flavorful and unique dishes, Mercado puts a modern twist on traditional Mexican cuisine. This restaurant is a family favorite, since it offers both vegan and non-vegan options, so there is something for everyone. Mercado has lots of vegetarian options, most of which can easily be made vegan upon request. My personal favorite order combination are the coliflor al pastor tacos and the black beans (make sure to ask for them without cheese if you are vegan, lactose intolerant or just don't like cheese). The coliflor al pastor tacos are a unique twist on classic al pastor tacos, since these tacos are vegan, and tacos al pastor are typically made with meat. Mercado also has some of the best beans in Los Angeles that are vegan friendly, so I definitely suggest you order them. Mercado is currently open for patio dining, and is following COVID-19 precautions. However, if you're like me and are hesitant to go out to dine, don't worry! They also are available for pick up and delivery on GrubHub, Doordash and Postmates.