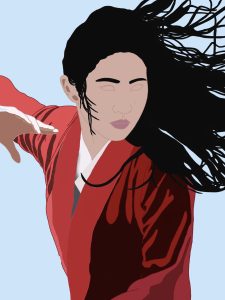 The announcement of the live-action remake of the 1998 animated film "Mulan" drew the attention of millions of people, especially for myself and many other Asian-Americans. Many Disney movies and other typical children's films either generally lacked Asian characters or used harmful stereotypes when portraying Asian people. "Mulan" was one of the few films growing up that I felt truly represented me as an Asian in a powerful and beautiful way. However, every aspect of this film disappointed me.
One of the many issues I have with this film is related to the controversy surrounding the leading actress, Liu Yifei. In August of 2019, Liu expressed her support for the Hong Kong police in a tweet, condemning the ongoing pro-democracy protests that began in March of 2019. The protests were sparked after Hong Kong Chief executive, Carrie Lam, introduced an extradition bill that critics said "will target political activists in Hong Kong." The response to the protests from the Hong Kong police was truly horrifying, as protestors were pepper-sprayed, tear-gassed and hit with rubber bullets. Even the United Nations human rights office criticized the force used on the protestors. Yifei's support of such brutality, as well as her propagation of these sentiments via her large social media following made me dislike the film before even watching it.
Another huge red flag for this remake of "Mulan" was Disney's choice to partially film the movie in Xinjiang, the region in China where more than a million Uighur Muslims have been imprisoned in mass internment camps. The camera crew had arrived in August of 2018 when the news of these detention camps was well known. They not only made an active choice to continue filming, but later went on to thank four propaganda departments and the public security bureau in this region in the credits, while not acknowledging what human rights activists and legal scholars call "the worst collective human rights abuse in China in decades." This action reveals the blatant disregard of humanitarian issues .
Yet another issue is the lack of diversity within the crew and production teams. One would assume that because Mulan is a film surrounding Chinese history and identity, the crew and production teams would be filled with people of color. However, the credits yet again reveal the failure of this film, listing the production team to be made up of mainly white people. Yep, a film that is supposed to represent Asian people has a white director, white screenwriters, a white cinematographer and even a white costume designer. Sadly, this movie connects to an ongoing trend of few people of color in positions like feature directors, screenwriters, or other authority figures behind the scenes.
I find this remake of Mulan to be a mere money-maker rather than an empowering film for young Asians, as it was poised to be. A core principle of the 1998 "Mulan" was pride in Chinese history and identity. Upon examining the actions of those involved in this version of the film, it seems to me that their intentions are instead corrupt, as seen through the large number of white staff members, the use of Xinjiang for filming and the leading actress' support of the Hong Kong police. For a movie that was supposed to make me feel empowered and proud, I instead felt utterly let down and disappointed by the lack of thought that went into this movie-making process.