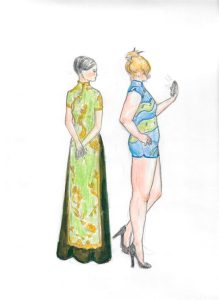 As racism against Asian Americans amid COVID-19 has received a large amount of attention within the mainstream media in recent months, I have been thinking about another prominent issue that has gone largely under the radar in the past few years: the appropriation of Asian culture and its normalization within Western society.
To be clear, the appropriation of Asian culture (and many other cultures) is not a new phenomenon, and has in fact been deeply rooted in Western culture for decades. For instance, according to Time, Asian food has a long history of being considered cheap and dirty in the United States. These attitudes towards Asian cuisine were especially heightened after the passing of the Naturalization Act of 1965, which abolished the country's immigration quota system and allowed more Chinese to establish themselves in the U.S., many of them doing so by opening up inexpensive restaurants. Some even argue that it was not until elite Western restaurant owners realized they could profit off of selling Asian food that they adopted exotified Asian cuisine onto their menus.
However, in recent years, I have become much more aware of not only the blatantly problematic appropriation of cultures in modern society but also of the seamless blending and normalization of these actions into the fabric of our society.
One trend in particular that caught my attention in recent months is the Fox Eye Challenge. When I first came across the trend on Tik Tok I did not think much of it. However, reflecting upon the trend in the past few weeks, I have come to the stark realization of not only how inappropriate it is, but also how my initial reaction to the trend is indicative of how normalized cultural appropriation has become.
For those who are unfamiliar with the Fox Eye Challenge, it was a popular trend on social media earlier this year. Promoted by celebrities such as Kendall Jenner and Bella Hadid, the trend challenges make-up users to create an 'almond' shaped eye look. Fox-eye makeup tutorials include shaving off or redrawing your eyebrows and using eyeshadow to create a cat-eye flick towards your temples. Many individuals took the trend further by pulling their hair into a tight ponytail and posing for photos with their hands pulling their eyes back.
While I do not have an issue with cat-eye makeup, I found the motion of physically pulling one's eye upward to be insensitive and immensely inappropriate. For one, many people do not realize that the gesture has a racially charged history. Consider, for instance, Henri Meyer's French political cartoon, "China – The Cake of Kings," a satirical depiction of imperialism in the 1890s (you have most likely seen the image in your history class). The cartoon portrays Chinese and Japanese world leaders with features mirroring the fox-eye trend and was used to make Chinese more barbaric looking in order to justify imperialism.
Even worse, many Asians living in predominantly non-Asian or white neighborhoods have experienced bullying and mocking for the shape of their eyes. I remember the ways my classmates use to taunt me for my slim and narrow eye shape, and how self-conscious I would feel having to draw my eyes on self-portraits. I remember the day when the only other Asian on my sports team was humiliated by our coach for apparently having "eyes like slits" which "made it impossible for her to see the ball." It is frustrating that a sea of primarily white women are given praise and compliments for recreating a facial feature that has historically been a source of insecurity, mockery, and judgment for Asians. Why is it that oftentimes another racial group's appearance and culture are only deemed beautiful when the white population jumps on the bandwagon? Our eyes are not a trend, and exotifying other race's culture or appearance is not only inappropriate but also hurtful. 
There is a fine line between cultural appropriation and cultural appreciation. It is important that when using aspects from another culture, you are constantly questioning your motives for doing so. If the answer is for personal gain or because it is trendy, then you are guilty of cultural appropriation. However, if you genuinely seek to understand and honor another culture, then make sure you are actively learning about the culture and doing so in a way that is not only respectful but also not perpetuating and exotifying pre-existing cultural stereotypes. Especially in this time of national racial reckoning, it is important that we are all more mindful of our actions and are actively working to promote inclusion and acceptance of all cultures, identities, and backgrounds.