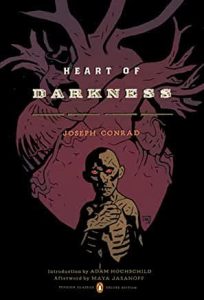 In response to community feedback, the English department has removed "Heart of Darkness" by Joseph Conrad from the English III Honors and AP Literature curriculum. While the department often meets to discuss texts that are part of the English curricula, it was feedback from the Marlborough community members that prompted a serious discussion about removing "Heart of Darkness" from the 11th grade syllabus.
"It wasn't until Dr. Hotchkiss reached out to us in June saying that she had received feedback from alums, students and parents that had felt pain when reading "Heart of Darkness" and pain being a part of class discussions. It wasn't until then we had decided to take a serious look at getting rid of it," English Department Co-Head and instructor David Long said.
In previous years, 11th grade instructors had made a conscious effort to address the racism and harmful language present in "Heart of Darkness" and how the novel exemplified the pervasive eurocentrism of the time.
"We couldn't just teach it without calling attention to the issues of colonialism, racism, injustice and imperialism. There are racial slurs in it, terrible things are said about women and the continent of Africa but also other European countries. It features a pretty nationalist and biased narrator," English Department Co-Head and instructor Deborah Banner said.
Feedback from Marlborough community members sparked conversation among the English department about the relevancy of "Heart of Darkness" in a contemporary classroom.
"Clearly it was regarded as a work of great art for over 100 years. Is that time over?" Banner said, explaining the questions raised surrounding "Heart of Darkness'" place in the curriculum.
In the end, removing "Heart of Darkness" created an opportunity to include different and more modern texts in the curricula.
"We decided it would be an opportunity to teach authors of color," Long said.
"Heart of Darkness" will be replaced by contemporary play "Rockets and Blue Lights" by Winsome Pinnock in English III Honors and short story collection "Let's Tell This Story Properly" by Jennifer Nansubuga Makumbi in AP Literature.
The removal of "Heart of Darkness" allows for space to be made for a range of texts by more diverse authors, which creates a more comfortable classroom environment for all students.
"To me, getting rid of one more white male author and opening up the possibility that we hear from a woman of color, a man of color, a queer author, or an author who sounds more like the students who are reading the work. Everybody deserves to be heard," Banner said.