Avery Crystal '20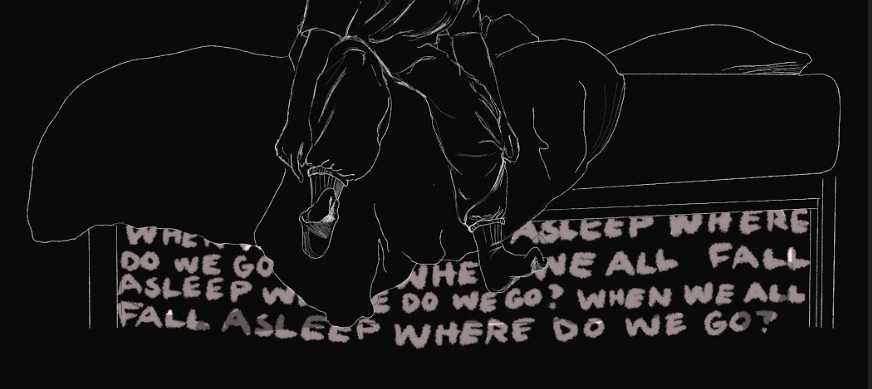 Billie Eilish is the 17-year-old indie-pop star who went from dropping acoustic ballads on Soundcloud to charting on the Billboard Top 100 in under two years. With ethereal, whispery vocals that float smoothly over sharp baselines and hazy synths, Eilish is redefining melancholic pop. For some context, Eilish's subgenre of "moody" pop was made mainstream by the likes of Lana Del Rey and Lorde––artists who can fold vulnerable lyricism into stylish ballads for a radio audience. After a long period of touring her debut EP Don't Smile At Me, Eilish proves that she is the new face of spooky gen z pop with the release of her first album, WHEN WE ALL FALL ASLEEP, WHERE DO WE GO? With only a few forgettable pieces, Asleep is a success that manages to coalesce quirky melodies, rich vocal production and commercial sound into a powerful debut record.

Generally speaking, the most successful tracks on the album are those that blend Eilish's signature bravado, eeriness and vulnerability into odes that push the boundaries of pop. This is most evident in her fifth piece, "all the good girls go to hell." Supported by a playful beat, Eilish executes her most lyrically impressive song with lines that subvert the "good girl" idealism of suburban paradise, such as "pearly gates look more like a picket fence." The track is striking and assertive, balancing Eilish's aggressive independence with pop-princess bass and synth rhythms.

A similarly effective tone is achieved in perhaps the weirdest song on the album, "my strange addiction." The track gracefully skates between blocky sampling of dialogue from television classic, "The Office," and lyrical gymnastics that suggest we should "take a break not an oxford comma." In an industry inundated with overproduced club tracks, "my strange addiction" is an experimental risk that seamlessly blends poetic depth with chart-topping listenability.

One song that evades easy categorization is "ilomilo." With reverberation applied to her vocals, Eilish laments the loss of close friend XXXTentacion over a synth-infused beat that mimics the sound effects used in popular arcade games. Throughout Asleep, Eilish references the complexities of grief in compositions such as "bury a friend" and "ilomilo," but among these more personal tracks, Eilish's most successful is "xanny." Set to a minimalist drum beat that supports hazy, growling vocals, Eilish decries the excessive drug use of contemporary popular culture. The song alludes to the premature deaths of fellow artists such as Mac Miller and Lil Peep through delicate songwriting which envelops listeners in a woozy post-party sunrise. "ilomilo," "bury a friend" and "xanny" prove that Eilish has a depth of emotion rare in today's saturated pop market and are refreshing deviations from her more saccharine hits.

Despite its underlying strength, Eilish front-loads the album with her best tracks, leaving the listener feeling slightly unsatisfied at its conclusion. The penultimate three songs; "listen before i go," "i love you," and "goodbye" are drowsy musings on the turbulence of love that, despite brooding intentions, quickly become a "mom it's not a phase" caricature of teenage angst. Replete with sloping guitar melodies, thunderclaps and whispering harmonies, the finales are sonically dynamic but fall flat amidst more original and surprising tracks.

WHEN WE ALL FALL ASLEEP, WHERE DO WE GO? is a fluttery ode to the darkness of teenage years. Eilish releases her inhibition with violent but purposeful lyrics, complex beats and graceful intonation. While the record ends on a slightly flatter note, Asleep expertly plumbs the depths of life and death without its self-reflective tone feeling forced. In the world of moody pop, Billie Eilish should definitely be on your radar as she continues to shatter convention with her eerie falsetto.