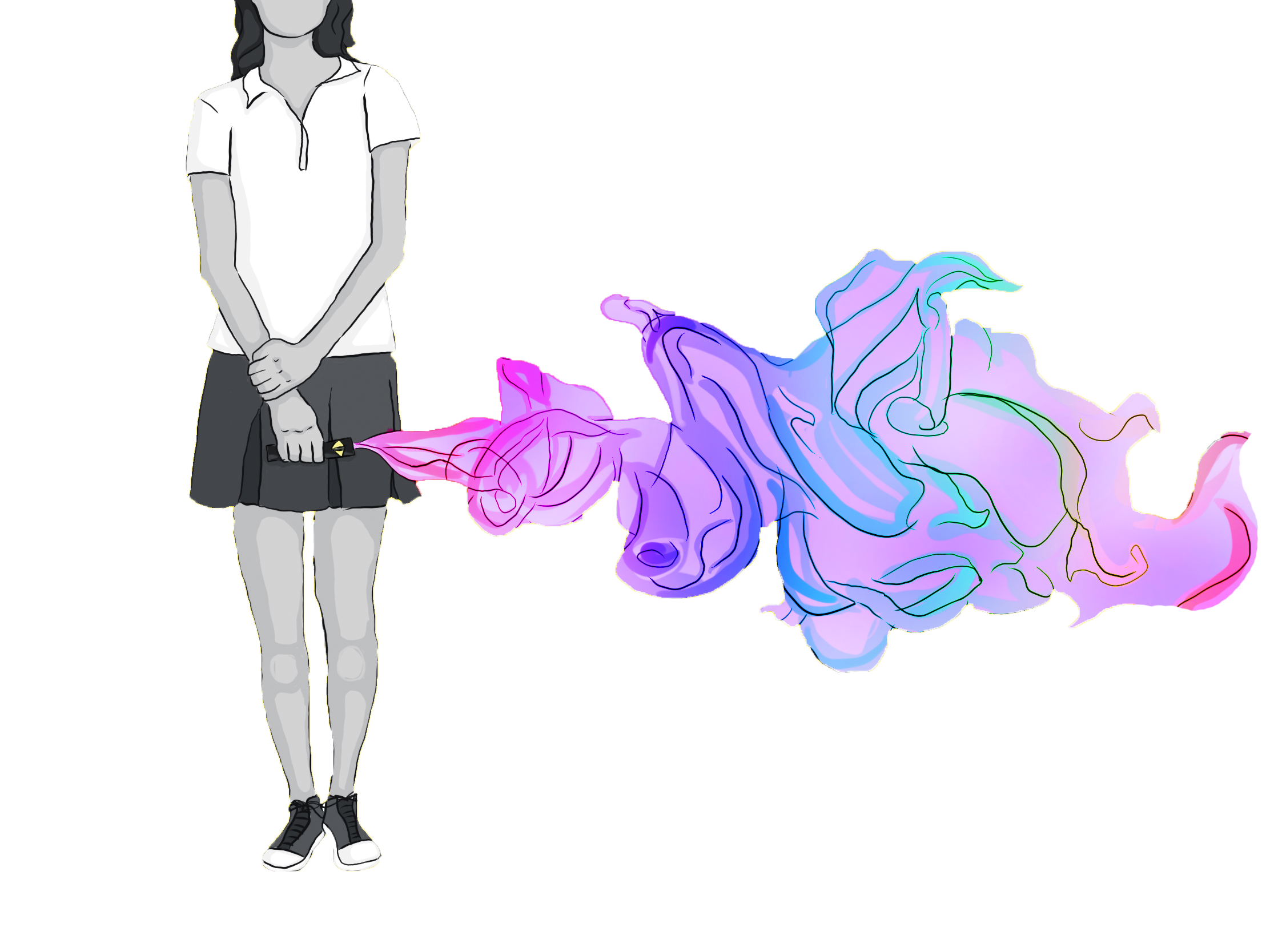 By Kelly Danielpour, Charlotte Daniels, Sophie Dorf-Kamienny, Priya Karumanchi, and Cameron Lange
The JUUL, a device held responsible for recent surges in teen vaping, is at risk of being dramatically restricted or even prohibited by the government in the near future. On Wednesday, Sept. 12, JUUL Labs and four other manufacturers of e-cigarettes were given 60 days to appease the Food and Drug Administration's demands that they take action to prevent underage vaping. The five companies involved, Juul, Vuse, MarkTen XL, Blu and Logic 60, make up 97% of the U.S. e-cigarette market. JUUL Labs comprises 71% of the market and is known for its popularity among teens. Now valued at $15 billion, the company released a statement saying they "will work proactively with [the] FDA in response to its request."
Background
JUUL was founded by James Monsees and Adam Bowen, who met as graduate students in the Stanford design program in 2007 when neither of them could successfully quit smoking. JUUL was not the first e-cigarette, but Monsees and Bowen aimed to produce a more appealing alternative to conventional smoking. JUULs produce vapor by heating up e-liquid comprised of nicotine, flavoring and chemicals, which is then inhaled.
JUUL's mission is to help adult cigarette smokers quit. However, it is uncertain whether inhaling JUUL vapor (JUULing) actually helps smokers abandon their habits. A recent report on e-cigarettes by the National Academies of Sciences, Engineering and Medicine analyzed the findings of 800 peer-reviewed studies, but was inconclusive. Only three randomized controlled trials have been conducted on the practice as well as a few observational studies, all of which had conflicting conclusions.
Appeal to teens
Over the past several years, JUULing has become increasingly popular amongst teenagers despite the federal legal vaping restriction for minors. This popularity is often credited to the flavored pods available, its sleek design, its perception as a "safe" drug and the party culture surrounding it.
In order to buy JUUL paraphernalia from their official website, patrons need to submit an I.D. or the last four digits of their social security number proving that they are are least 21 years old. However, despite legal age restrictions, not all smoke shops check their customers' identification, and a large scale JUUL distribution network exists among teens.
JUUL pods come in a variety of flavors including mango, crème and cucumber. There are also over 7,000 flavors of e-liquid available from other retailers online including s'mores and cherry cola.
JUUL Labs conceded that teenagers might be attracted to their flavors and responded by dropping adjectives in the flavor names. For example, cool cucumber is called cucumber and crème brûlée has become crème.
JUULs may also appeal to teens because they are easily concealed. They resemble USB drives and produce very little smoke compared to other vapes, making it even easier to take a hit without drawing attention.
Consequently, JUULing has become an integral part of party culture. From an UltraViolet survey with 217 student respondents, 85% of students who JUUL said they only JUUL in groups.
Director of Middle School Sean Fitts said social pressures might contribute to the popularity of JUULing.
"I think the middle school students tend to be more experimental," Fitts said. "It's new, and they're curious, and they see other students do it so then they feel like they need to do it."
All students who were interviewed requested to remain anonymous because they did not want the school or parents to know that they are personally exposed to the trend, as teen JUULing is a controversial subject.
A senior said experimentation is a major motivation.
"JUULing seems like an exciting and safe way to test out drug culture with fun flavors and pretty designs," she said.
Not only is JUULing a large part of party culture, but some may perceive it as an act of rebellion because its use involves defying age restrictions.
Debate Coach Adam Torson said he views JUULing as a form of "false rebellion."
"JUUL's popularity is one of the things that should give you pause about it because it suggests that it's a form of false rebellion," Torson said. "You should feel like a cliché if you're JUULing because everyone else is. That means that you're not actually an independent or rebellious person, you're a follower who can't bear the thought of not looking cool in front of her friends. False rebellion is not impressive."
Response to backlash
Although JUUL Labs claim they have not aimed to market to teens, a former senior manager said that he and others in the company were aware it could appeal to them. Despite this claim, the company has taken steps toward preventing teen use of its products.
JUUL's new campaign involves a promise to invest $30 million in independent research, youth and parent education and community engagement efforts while working with the federal government to raise the minimum age to purchase tobacco products to 21 years nationally.
"We strongly condemn the use of our product by minors… Our goal is to further reduce the number of minors who possess or use tobacco products, including vapor products and to find ways to keep young people from ever trying these products," a JUUL Labs spokesperson told the UV.
HEALTH EFFECTS
The health effects of JUUL have generated news as new studies continue to come to light, especially because of teen usage.
CNBC reported that "all [JUUL] pods contain 5 percent nicotine, the equivalent to a pack of cigarettes." In fact, according to Vox, JUUL contains three times the nicotine levels allowed in the European Union, so it cannot be legally sold there. Nicotine is an addictive drug; of all smokers in the U.S., 85% have attempted to quit at least once without success. However, according to a survey by the Truth Initiative, 63% of JUUL users who participated were unaware that JUUL products contain nicotine
Nicotine can result in lifelong adverse cognitive and respiratory repercussions in the adolescent brain. In a 2015 study by Lucinda J. England, MD, scientists asserted that nicotine exposure can alter the development of the cerebral cortex and hippocampus in adolescents. A separate study in 2013 identified nicotine as a factor of heart disease in the long term.
In addition to the physical impacts of vaping, some argue that the use of JUULs serves as a gateway to cigarette smoking. While smoking rates among teens are dropping, more and more teens are vaping. The numerous studies have found that e-cigarette use among youths causes increased risk of later cigarette use. In fact, the National Institute on Drug Abuse recently found that those who used e-cigarettes were four times more likely to smoke cigarettes later in life. In terms of mental health, the same study found that exposure to nicotine is often followed by depression, fatigue or symptoms of anxiety once its calming effects wear off.
JUUL also has health effects outside of those associated with nicotine. According to a study at Johns Hopkins University that examined 56 e-cigarette users, vaping devices can release toxic or carcinogenic metals including lead, chromium, manganese and nickel in its aerosol.
There are also potential risks associated with breathing in second-hand vape smoke because vaping contaminates the air with nicotine and toxins.
Torson said that even when faced with a lack of reliable research, he would not trust the industry's claims that their products are harmless.
"The same people who told you that smoking is not going to kill you are the people who are telling you that JUULing is not going to kill you," Torson said. "This does not mean that JUULing will kill you, but it does mean that it would be prudent to err on the side of caution. The only people assuring me it's a good idea are people who have a financial interest in promoting the idea that this product is healthy."
Prevalence at Marlborough
Director of Educational and Counseling Services Marisa Crandall sent an email to both parents and teachers last year providing information about JUULs such as their visual similarity to USB drives and their health effects.
None of the faculty members interviewed claimed to have seen a student JUULing on campus, which would be in violation of School policy. According to the Student Handbook of Expectations, the use, distribution, sale or possession of controlled substances on campus can result in disciplinary action by the school.
Fitts said that Marlborough faculty has to be more vigilant because of how discreet the device is.
"It's very easy to conceal," Fitts said. "You wouldn't know if a student was doing it. You can't smell it, really. If you do smell it, you may mistake it for something else, like bubble gum."
According to the UV survey about JUULing, 71% of students said they know someone who JUULs. 15% said that they have JUULed themselves. It may also be important to note that many Marlborough students believed that the UV survey was not truly anonymous or was an attempt by the administration to investigate and potentially discipline the student body, potentially skewing the results.
Additionally, 64% of the survey respondents believe that Marlborough students JUUL less than students at other high schools in the Los Angeles area.
Ninth grade dean Jawaan Wallace said that the Marlborough community needs to continue to be cognizant of JUULing because of its rising popularity at other schools.
"I have heard in other schools that kids are finding very creative ways to conceal them and so I think it is really important for us to know about those cases and keep our eyes open," Wallace said.