Next test is the Nick Tournament of Champions starting Dec. 18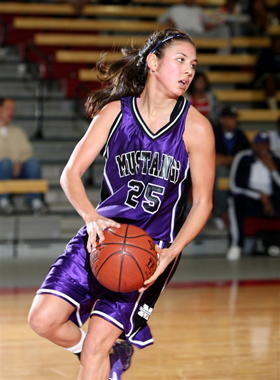 The varsity basketball team placed fourth at the Inglewood Classic Basketball tournament the week of Dec. 1, beating two tough Div. II-AA teams and fighting Long Beach Poly, which is ranked third in the country, down to the last minute before losing.
Coach Trenton Jackson said he thought the team should have finished in a slightly higher place, but the tournament helped the team start the season strong as it kicks off its bid for a seventh straight CIF Southern Section title.
"It was a growing experience.  It gave us a chance to start to understand the character of this team," Jackson said.
Long Beach Poly is in a Div. I-AA, which includes the state's largest schools. The Mustangs, who are in Div. III-AA, also lost to Bell-Jeff, which finished last season ranked number one in Div. IV-AA. The team's wins in the tournament included victories over team beat Culver City and Beverly Hills, both strong Div. II-AA teams.
The team traveled to Brea Canyon on Friday to take on Brea Olinda, another big, top-ranked  school. Jackson said the team had a good shot, after it kept its game against Long Beach Poly within 5 points in the final 45 seconds before losing 48-36.
The Mustangs might not have the depth of the big schools, but "we just keep coming," he said.
Team manager Arielle '09 agreed that the team played well in the Long Beach Poly game.
"And they're ranked number three in the nation, so that was pretty bomb," Arielle said.
Thanks to extra pre-season practice, said senior Talia '09, the varsity basketball team won the first game of the tournament and the season 60-25.  The game was against Venice High School on Dec. 1.
Talia said she was "pleased" the team won the first game, but that it was more important to "play hard and be good as a team. We were cohesive, so it was a good win."
Ashley '09 said she thought that the team members were all proud of their performance, and that the Venice team put up a good fight.
"I think we frustrated them a little bit after a while, but they definitely worked hard," Ashley said.
The team is "getting stronger," Ashley said.
"We're all just really excited to be playing again together. We have one new player, Annie, and we've been welcoming her," Ashley said.
The team has been working diligently pre-season, Talia said.
"We're mostly seniors, so we're all trying to go out with a bang," Talia said.
Talia said her goal for this season is to play well at every game.
"When my team is really focused and motivated, we can be really successful," Talia said.