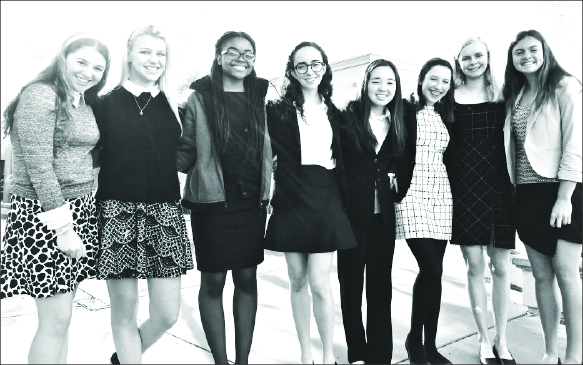 The Model United Nations team, advised by history and social studies instructor Max Duncan, competed in three novice tournaments this year, preparing the team to move up to advanced tournaments next year.
"Everyone's really enthused about next year," Duncan said. "This year was a little bit of a building year."
In Duncan's first year as advisor, the team focused on three tournaments over the course of the year in order to give the team time to prepare and to gain new skills. Du
ncan said that the first tournament was a great learning experience for the team. He decided to advise the girls on just the basics ahead of time so that they could learn primarily from their own experience. He was impressed with how quickly the team picked up on how to use diplomacy in order to pass resolutions.
Over the course of the year, Marlborough's delegations represented countries including Russia and Japan. At the novice tournaments, teams meet in committees that mimic United Nations committees, like the United Nations Children's Emergency Fund (UNICEF). The delegations use diplomacy to advocate for their countries' positions and to draft a compromise resolution.
Duncan said that MUN offers girls the opportunity to understand and practice the use of non-coercive "soft power" in international relations. He said the emphasis on working together with, rather than defeating, one's opponents differentiates MUN from debate.
"It's not about winning by having better arguments," Duncan said. "You win by creating consensus between people through diplomacy."
The team found its greatest success at the Los Alamitos High School Conference in April. Despite sending the smallest delegation to the conference, Marlborough came away with the highest number of individual awards for its noteworthy representation of Syria. Duncan said that representing Syria, a country whose leadership is hostile to the United States, teaches girls to expand their worldviews and to understand new perspectives.
"There's an exercise in empathy," Duncan said. "Empathy along with listening are two of the most underrated skills."
Anna '19 participated in two tournaments this school year. Anna said that she enjoyed learning how the United Nations works. She also gained experience with public speaking, often drafting speeches minutes before taking the podium.
"It's a different way of looking at current events," Anna said. "Plus, I'm learning new writing and speaking skills."
Duncan said the team hopes to participate in advanced tournaments next year. Advanced tournaments take place over two days, with committee meetings on the first day and General Assembly meetings on the second day. At General Assembly meetings, all delegates confer in one room to pass overarching resolutions.
The team has its sights set on competing in San Francisco and New York within the next two years. The national Model United Nations tournament in New York takes place at the United Nations Headquarters, giving participants a glimpse into the real-world applications of their work.