Honors Resear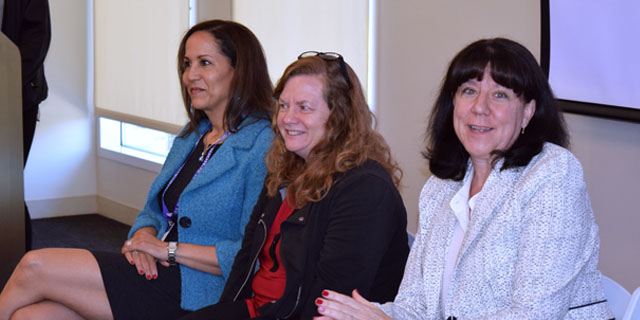 ch in Science students presented their work to their peers at the Leonetti /O'Connell Family Honors Research in Science Student Science Exchange on Friday, Feb. 19. Following student presentations, a panel of women in scientific professions discussed their career paths and encouraged girls to pursue their passions in a male-dominated field.
The 18 juniors and seniors in the program – which pairs students with professional research scientists – gave brief presentations about their research and about how their research labs are attempting to bridge the gap between what is and is not known about their fields. This year's research topics range from enzyme regulation in necrotizing enterocolitis to 3-D computational modeling of tumor cells. Honors Research in Science students spend eight to ten hours per week working on their research and will publish a paper on their research in Marlborough's Honor's Research Journal Eureka! by the end of the year.
Soo Jung '16, who is researching "Human-Robot Group Interaction with an Autonomous Tour Guide Robot," said she enjoyed learning about the work of her peers in the program.
"I think it's really interesting seeing the variety of topics everyone studies," Soo Jung '16 said. "Even though we're in this program together, we still do our work separately. To have this symposium to share is great."
Choi said she was nervous to speak about her work but that working ahead of time with Honors Research in Science Program Head and science instructor Elizabeth Ashforth helped her relax and enjoy her presentation.
For her part, Ashforth said she was impressed with students' presentations and with their growth as speakers.
"Everybody in research has to present themselves, whether they're doing it in written word, in grant applications, at lab meetings, or at big international meetings. You have to be able to communicate because otherwise you get too inward looking, and your work never goes anywhere," Ashforth said. "Even if these students never do scientific research again, they know they can present graduate-level or post-graduate level research to an audience. I didn't see any one of them not be able to answer the questions about their work."
The symposium is open to attendance by all Marlborough students, but most audience members were in the Honors Research in Science program. Ashforth said she would like to see more Marlborough girls attend the presentations in the future in order to support their peers' research.  
Honors Research students and Ashforth agreed that the "'Meet the Expert' Panel Discussion on Careers in Science" at the end of the symposium helped make the exchange a success. The panelists were Lanita Scott '84 MD, Global Senior Medical Director at Santen Pharmaceuticals; Jill McNitt-Grey PhD, Professor of Biological Sciences and Biomedical Engineering, USC; and Mary Ellen Cosenza PhD, Consultant for NDA Partners LLC and former Executive Director of U.S. Regulatory Affairs and Executive Director of Emerging Markets for Amgen Inc.
When second-year Honors Research student Alanna '16 started the question-and-answer session by asking what challenges the panelists had faced as women in STEM, the three women responded that girls should pursue their scientific passions even if they are the only women in the room. McNitt-Grey teared up and said that seeing the room full of girls enthusiastic about the sciences touched her.
"You can do anything you want to do, but it's going to be hard," McNitt-Grey said.
She added that she has seen the number of women in her department nearly triple over the last couple decades.
"We're moving that needle a little bit, so hopefully there's a better welcoming party for you," said McNitt-Grey, who runs her own research lab at USC. "Keep following your heart because it's your life. Keep working to find those solutions."
The panelists, who are all married with kids, said women can have families and fulfilling scientific careers. Cosenza overcame the doubt of a thesis advisor who told her she could not get a doctorate and be a mother.
The women advised girls to seek out supportive mentors and female communities in their fields.
The panelists also shared that their careers followed paths they had not expected when they were in high school and advised girls to find jobs that, above all, they love doing. Scott, who said since third grade she had thought she wanted to be a doctor, stopped practicing ophthalmology after just two years in order to pursue a career in biotechnology.
"The decisions you make don't have to be your forever decisions," Scott said. "There are so many paths in sciences. I challenge you to be open-minded."
They added that, as they worked on research teams, people-skills helped advance their careers. Cosenza, who worked to develop life-changing drugs on the toxicology and regulation sides of the pharmaceutical industry, said that her relationships made her career fulfilling.
"You can work on lots of drugs and development, but it's really the people you look back on," Cosenza said.