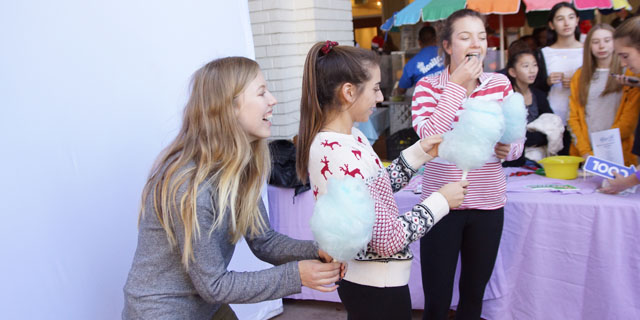 On Thursday, Dec. 17, 136 parent volunteers collaborated to offer a variety fun activities for Winter Fest to channel the holiday spirit and raise money for charitable causes.
Max Hockley, mother of Olivia '18, who chaired the event with five other parents, wanted this year's festival to carry on the traditions of the past in spite of the nearby construction.
"Our focus this year, as in every year, is to provide an event that allows the Marlborough community to celebrate the end of the semester, and to have some fun and good food with friends before the winter holidays and to provide some help to the larger community around it," Hockley said.
Half of the profits earned from the event through ticket sales were donated to charities elected by each class, while the remainder went to the various class funds. Last year, the school raised over $7,000 in profit. This year, charities benefitting from Winter Fest include the Covenant House (seventh grade), the Malala Fund (eighth grade), the Make-A-Wish Foundation of America (ninth grade), L.A. Kitchen (tenth grade), Homeboy Industries (eleventh grade, and Westside Children's Center (twelfth grade).
This year's activities included henna tattoos, glitter tattoos, a photo booth, fortune teller, handwriting analysis and a community service station. Because of the construction currently taking place on Booth Field, the bouncy obstacle course that has been popular in past years was eliminated. Instead, students had the opportunity to partake in laser tag in Combs Gymnasium.
Hockley noted that the addition of laser tag seemed to be a "big hit" and was a great way to "change things up a little."
As in past years, one of the main components of this year's Winter Fest was the raffle, for which students bought tickets that they then distributed into various envelopes for a chance to win a package of their choice. This year's baskets included trips to Disneyland, tickets to the Ellen DeGeneres show and gift certificates to the extremely popular workout spot SoulCycle. At least two parents from each class began working on the raffle in September, setting up a Sign Up Genius, through which parents could sign up to bring donations, collecting and shopping for items with donated money from students and organizing the final the packages. In addition to the 88 packages in the student raffle, faculty and staff took part in their own raffle which contained 24 packages.
In addition to activities and the raffle, every year the parents provide a plethora of food options for Winter Fest attendees to enjoy. This year, catered food included Asian buffet, comfort food, cotton candy and burritos. Parents also brought homemade goodies, such as holiday treats and cornbread muffins. In addition, there was a lot of excitement surrounding the fruit cart this year.
"I thought that the fruit stands were the best part [of Winter Fest]. I had three cups," Tara'20 raved.