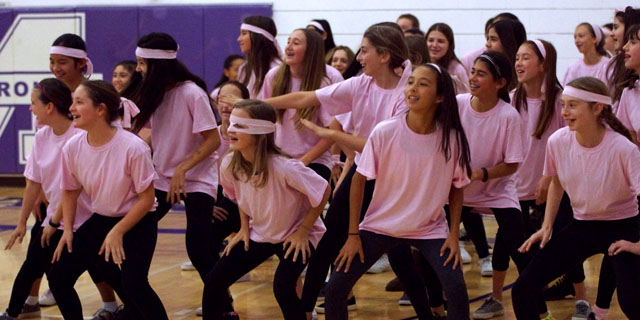 This year, All-School Student Council has added charitable modifications to Marlborough's annual Spirit Week, which takes place from Monday, Jan. 25 to Friday, Jan. 29. New community outreach opportunities will allow classes to earn points by participating in daily community service drives. Each day of the the week will have a drive to raise supplies for a different charity group, and the class that brings in the most supplies will win points for the day. Other changes include efforts to reduce waste and modifications to the rules of the all-school dance competition at the end of the week.
The daily drives that will benefit include the Los Angeles LGBT (Lesbian, Gay, Bisexual and Transgender) Center, which provides health services and housing to homeless LGBT Youth; Westside Children's Center, which provides health services to at-risk children and their families; NICA (Nicaragua Initiative for Community Advancement), which provides educational services to children in rural Nicaragua and Homeboy Industries, which provides job training and support to formerly gang-involved and incarcerated men and women.
All-School Student Community Service Representative Christina '16 explained the drives will not only foster class spirit but will also encourage girls to donate to good causes.
"[The drives are] a good way for people to be exposed to a lot of different organizations and a lot of different causes within one week while… contributing… to those causes," Christina said.
Regarding the traditional dance competition that takes place at the end of Spirit Week, All-School Council has decided to donate the grade shirts to Covenant House after the dance and has tweaked some of the rules regarding the actual competition.
"[The reason for donating the shirts] is two-fold: we are trying to have a more community-minded [and evironmentally sustainable] Spirit Week, and we are trying to have a positive impact on the broader community," Dean of Student Life and world languages instructor Regina Rosi said.
The colors of each grade are bright pink for seventh grade, green for eighth grade, red for ninth grade, white for tenth grade, royal blue for eleventh grade and black for twelfth grade.
All-School Student Council has also made some welcome changes to the rules of the dance competition. Although the use of props in a grade's dance was banned in the 2013-2014 school year because of the overuse of extreme props, such as scooters, this year, the use of props has been reinstated as long as the grade minimizes the use and does not utilize live props or props that have wheels or motors.
The dance competition rubric, which judges use to score each grade, now has an additional 20 points to reward spirit. A grade can earn points for spirit by being energetic for their own dance as well as supporting other grades' dances.
Rosi is looking forward to this year's Spirit Week and its new community service components.
"All students get really into it. I would say it's one of those things that actually does work to bond the grades together and actually does really raise spirit. And clearly since people get so excited about Spirit Week, [we can] build on that excitement and ultimately contribute something that goes beyond just the four walls of Marlborough School," Rosi said.