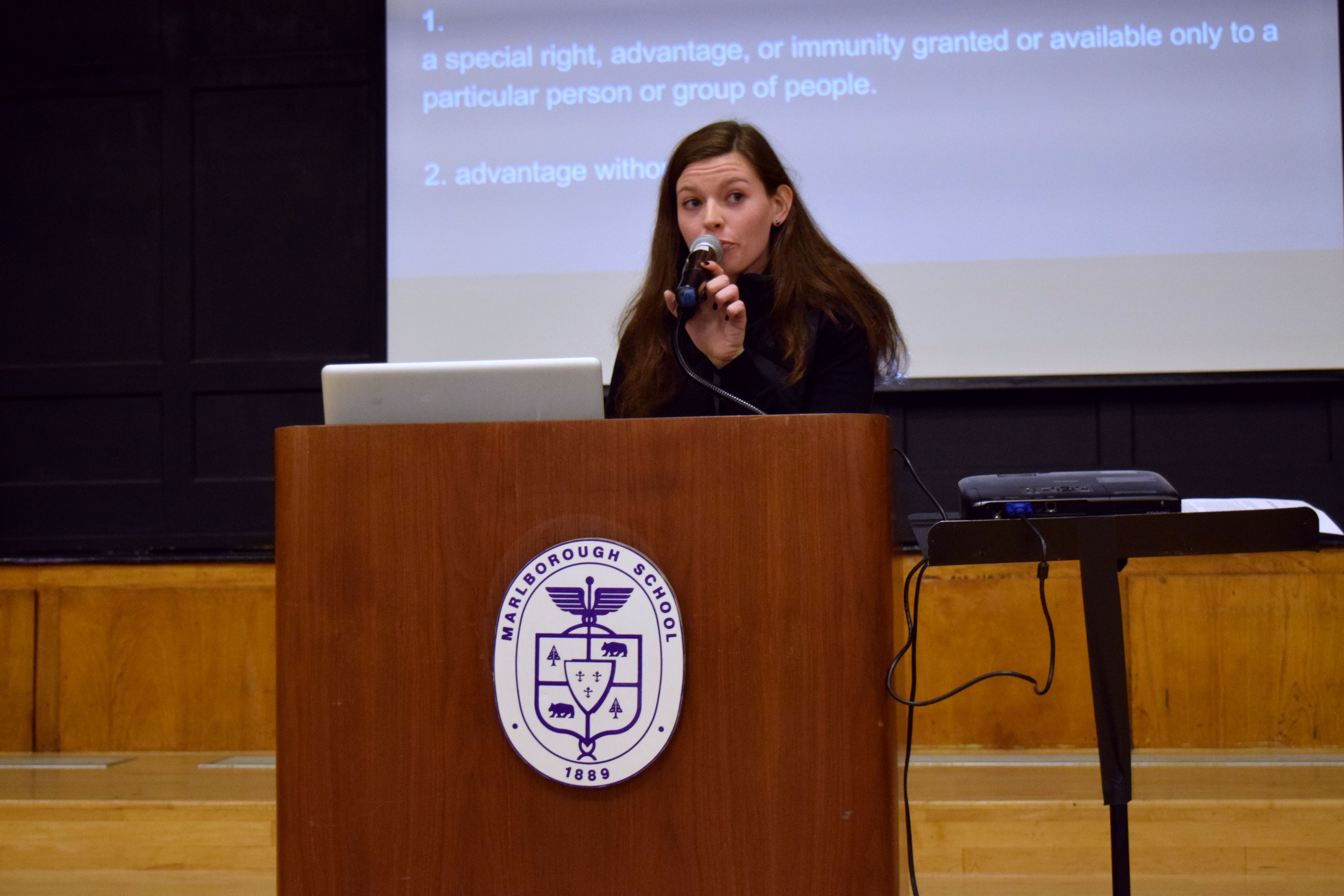 Had one walked in late to the All-School meeting on Friday, Jan. 8, one would have encountered an unusual sight. Six girls, one volunteer from each grade, stood amongst a sea of their seated peers, attempting to throw crumpled balls of paper into a waste paper basket at the front of the hall. Each student representative missed the basket, though the older students seated towards the back landed their paper balls ten or twenty feet from the target, while younger students in the front rows were only off by inches or a couple feet. Once they had completed the task, All-School President Lindsey Johnson '16 explained the significance of the activity.
"This [exercise] applies to life. There are many different ways in which people can be advantaged or disadvantaged. Privilege is applicable to race, gender and sexuality, physical and mental ability, and even where you were born or what language you speak," she said.
Thus began the diversity-committee-coordinated assembly on the topic of "privilege." The committee had been working with Johnson to design the All School Meeting since December. World languages instructor Elizabeth Vitanza shared the document used by the committee to compile research and plan discussion points for the All School Meeting on Jan. 12. in an email to the school community. Continuing the Global Awareness Program Johnson started this school year, the speakers discussed educational, male and caucasian privilege.
Johnson defined "privilege" as "a special right, advantage, or immunity granted or available only to a particular person or group of people." Johnson said that, despite the negative connotation the term often carries, "privileged" implies neither blame nor fault.
"The first thing I thought of was the word feminism. If you don't know what it means , you might think it's this crazy movement to crush men, but that's not what feminism means. It means equality between men and women, and I think it's kind of the same thing with privilege," Johnson said after the Assembly.
Johnson introduced educational privilege, the first of four sub-topics addressed in the assembly, recounting her own experience with the privilege of never having to worry about if and where she would attend high school.According to Johnson, educational privilege further manifests itself at Marlborough in access to college counseling resources, excellent teachers, and a pleasant and safe campus.
English instructor Brett Quimby then spoke about male privilege, and his experience with it as a father.
"When I had a child, no one assumed I would be providing primary childcare, and most people were surprised and enthusiastic by my decision to take time off, and called me an extraordinary parent even though I know my wife has logged many more hours parenting than I have" Quimby said.
Performing arts instructor Gleason Bauer explained Caucasian privilege by listing the numerous advantages afforded her by the color of her skin, including fair representation in mainstream media, freedom from fear in encounters with the police, and even the knowledge that hair products suitable for her type of hair are accessible to her any where in the country. Additionally, her actions have never been interpreted as a reflection on the whole race of people with her skin tone.
"Aside from today, I've never been asked to speak for my entire racial group," Bauer said.
English Instructor Chris Thompson concluded the assembly by instructing students how they could employ what they had learned about privilege.
"The trick is just to think about the fact that there are things you have that other people don't have… so you can interact with people in a way that is empathetic, that is warm, that is thoughtful, and that is not in any way insulting," Thompson told the audience.