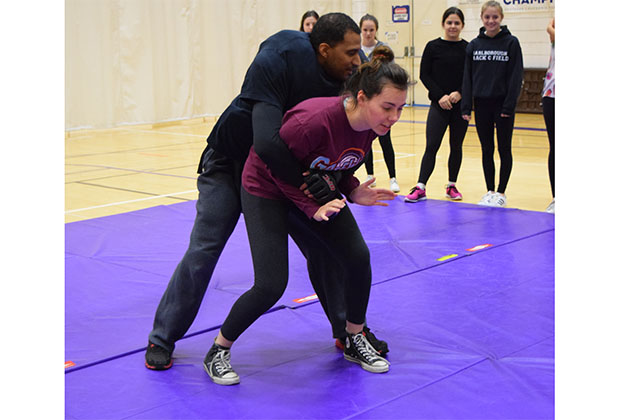 Changes to student training and investigation protocol are among the shifts this school year in Marlborough's approach to preventing and responding to harassment in the School community. The School integrated student training into existing physical education courses this year and will continue using outside speakers for student training as the School did last year. Last summer's revisions to the Employee Handbook expanded the protocol for and administrative oversight of any future investigations of harassment. Marlborough's efforts to strengthen its anti-harassment training and policies are a result of an ongoing process that began two years ago after the Board's independent investigation into harassment allegations against former English instructor Joe Koetters.
Assistant Head of School and Director of Upper School Laura Hotchkiss '86, school counselor Emily Vaughn and Head of the Physical Education Department Julie Napoleon have led the process of integrating training into students' physical education classes.  Starting last semester, all physical education courses have set aside several classes to focus on anti-harassment and anti-bullying training.
The integrated training this year differs from the concentration of training in 2014-15.  Last year, the School scheduled eight one-hour training sessions for students following the Board's independent investigation. Students will receive more training this year during physical education classes and existing diversity retreats than during sessions with outside specialists.
Vaughn said that integrating the training into curricula improves ongoing discussions about sexual harassment because class time allows for reflection in a way that a one-time speaker does not.
"Last year we just sort of tried to throw everything into the bucket because there was an urgency to make sure that things were addressed properly," Vaughn said. "This year it's smoother."
The training during physical education classes and diversity retreats has come from many sources. Vaughn led the training in Emergency Preparedness first semester, and Lindsay Mastergeorge — a counselor at Crossroads School — will lead the training second semester. In the Self Defense for Women course, Sarah Insel from the Santa Monica Rape Treatment Center will lead the anti-harassment training. Seventh and eighth graders, who are all required to take physical education, will work on training with Roads to Respect, an organization sponsored by the Santa Monica Rape Treatment Center.
Current and former Self Defense students said the class, which has been offered for many years, has been the source of their most effective training against sexual harassment.
"When I'm out in the world, I feel a lot more confident in my abilities to be prepared and defend myself if something were to happen," Kate '19 said.
Because the School requires physical education in seventh and eighth grades and Emergency Preparedness at some point from ninth through twelfth grades, all students will have anti-harassment training over the course of their time at Marlborough due to the new integrated approach. The nearly 90 percent of students who take Self Defense during their time at Marlborough will receive further training. Freshmen and Sophomores also received training during their diversity retreats at the beginning of the school year, and Seniors will watch the Hunting Ground documentary about rape on college campuses later this semester.
In addition to modifying student anti-harassment training, the School revised the Employee Handbook protocol for investigating allegations of harassment during its annual review of policies last summer and fall. The School's Policies and Practices Committee, chaired by Michael Kong and Marla Ryan, led the revision process along with the senior leadership team, the School's general counsel Catherine Helm and Human Resources Manager Derek Poirier. Poirier said the updates to the Employee Handbook will increase the transparency of harassment investigations by requiring more administrative oversight.
The revision process led to a review of the Mandatory Notification Group, made up of the Head of School, Director of Upper School, Director of Finance and Operations, President of the Board of Trustees, Chair(s) of the Board's Policies and Practices Committee and the School's labor attorney. The Head of School is responsible for overseeing the investigation, including whether to bring in outside expertise for assistance. The results of the investigation including any discipline or corrective action must be shared with the Mandatory Notification Group. Due to the creation of the Mandatory Notification Group last fall, a broader array of people in the community will now be informed about any investigations into harassment complaints.
Hotchkiss agreed with Poirier that the policy changes improve the supervision over investigations.
"It's much less of a silo approach and much more of a shared response, so there's more eyes on any problems," Hotchkiss said.
On top of the changes to investigation protocol itself, two appendices regarding anti-harassment were added to the Employee Handbook: the Employee Protocol for Investigating Student or Employee Complaints of Harassment and the Student Anti-Harassment and Anti-Bullying Policy.
Employees and administrators also receive anti-harassment training throughout the year. In accordance with a state requirement that has existed for many years, all employees in a management or supervisory position underwent two hours of online anti-harassment training during the first semester. At the Board Retreat in the fall, trustees and senior administrators received further training for handling future harassment allegations.
For all employees, Poirier organized a one-hour seminar on Jan. 20 to review identifying and preventing harassment in the workplace with an attorney from Liebert, Cassidy and Whitmore, a law firm that specializes in labor, employment and education. Employees will attend a separate one-hour seminar later this year on the duty to report harassment claims.
Poirier said that the School has always had strong anti-harassment policies but that the sexual abuse allegations against Koetters brought the topic of anti-harassment to the forefront of the School's attention. Koetters pleaded guilty in October to four charges of sexually molesting two alumnae in 2000 and 2004 and is currently serving a one-year sentence in county jail. Poirier said that the School's ongoing revision process has strengthened the School's anti-harassment policies.
"Our current policies are among the best I've seen," Poirier said.