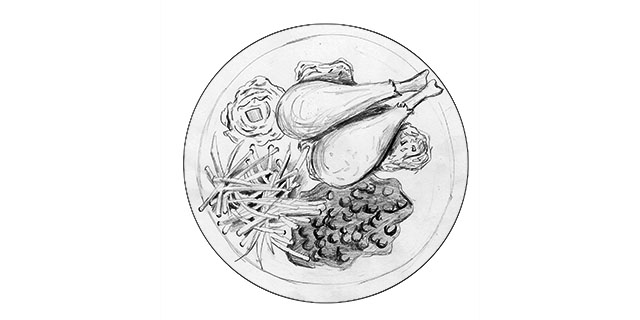 In my life, traditions have always been a comforting symbol of stability. They have played a pivotal part in my life, whether I'm grocery shopping or opening presents on Christmas morning. Traditions, big and small, are significant in everyone's life. Most Marlborough students like me are busy with school, and our parents are busy with their work too, so dinner is the only time that our families can connect. Often we don't realize the importance of traditions until circumstances change.
The traditions in my life changed drastically when my mom was diagnosed with moyamoya, a chronic or progressive disease that causes the walls of the arteries in the brain to thicken. At the beginning of this year, she began showing symptoms, which include numbness in the arms and legs, inability to swallow or talk, severe migraines, and TIAs, which are mini-strokes. On the Friday before school started, my family and I had to take her to the emergency room. The doctors told us that my mom's blood and oxygen flow was completely blocked; she had been living for the past seven years with collateral vessels without knowing.
My mom is the center of all of my traditions; she's always been a fundamental part of my life. She has been there to cook Thanksgiving dinner, pick me up from tennis matches and console me when I'm having a breakdown. The potential to lose my mom caused my family and me to adjust our lives and the way we handle situations. Even though the atmosphere of my family has completely changed, eating dinner together is still extremely important. Keeping the sense of normalcy helps my family cope with these changes.
My mom passed away on November 7, 2015 at 11:59 P.M. She was a caring wife, daughter, mother, and doctor, and knowing that all of our little rituals and family traditions will be different this year breaks my heart, not having her here during Christmas or on her birthday in January.
Before, when my mom was sick, it was simply terrifying to think about my traditions changing because those traditions help to give me a sense of stability. Now, I must accept that my life will change and that there is no longer that hope of my mom's recovery. But learning to adjust to this adversity has made my dad, my brother and me, as well as our relationship, stronger.
Honestly, it's difficult to create new traditions to help carry on with our hectic lives. Trust me, I've tried. Coming to terms with the fact that my family and I can never fill this void is difficult, but trying to maintain some normalcy by continuing to go to school and making dinner together does help my family and me remain sane.
My mom's death has helped me learn to cherish every moment I have with loved ones. It's cliche, but life really is too short to waste on pointless drama. My mom has taught me so much in the 15 years I got to know her that traditions are essential to our family bond.
I am now more grateful for my family and the unconditional love they provide.