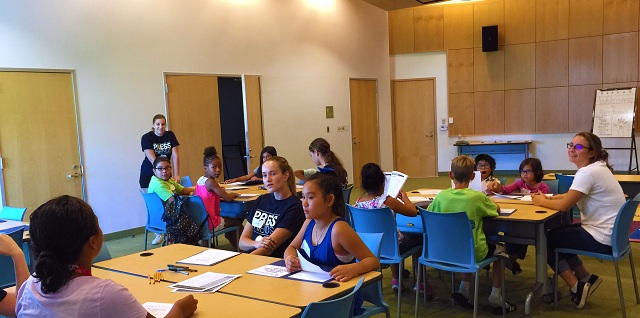 Kristen'19 started a Marlborough club this year supporting PressFriends, a Los Angeles-based nonprofit that helps elementary school children develop and maintain their own school newspapers. The club visits various Title 1 schools to help students conduct research and write and edit articles in a supportive, low-pressure environment.
Kristen described the mission of PressFriends as "teaching kids how to learn how to write by doing something fun."
The organization states on its website that it aims to "make writing and learning fun for elementary school kids, to empower every kid to become a socially responsible leader and mentor, and to create friendships among youth from diverse backgrounds to strengthen communities."
In addition to running Marlborough's PressFriends club, Kristen works as a lead mentor at PressFriends, hosting mentoring sessions at the schools with which she and her team work.
Kristen discovered PressFriends when she was a member of National Charity League (NCL), a mother-daughter organization that works with nonprofits to do philanthropy across the country.
"Out of all the organizations that I worked with, I found PressFriends to be the most valuable and [the one with] the best output," Kristen said.
PressFriends was founded by kids and for kids in 2008 and has since mentored over 1,400 children. The student-run nonprofit holds over 80 mentoring sessions and publishes 24 elementary school newspapers. The organization is supported by clubs at many Los Angeles schools, including Palos Verdes High School, Chadwick School, Mira Costa High School and Vistamar High School.
During the summer, PressFriends offers various programs to provide children with opportunities to find their passions. Among these programs are StemFriends, DanceFriends, SportsFriends and MusicFriends.
Marlborough's PressFriends club meets on Thursdays in Ninth Grade Dean and English instructor Brett Quimby's room and will visit schools after school, most likely twice a week to aid students with starting and writing for their own newspapers. Extensive writing skills are not a requirement for members of this club. Contact Kristen for more information if you are interested.