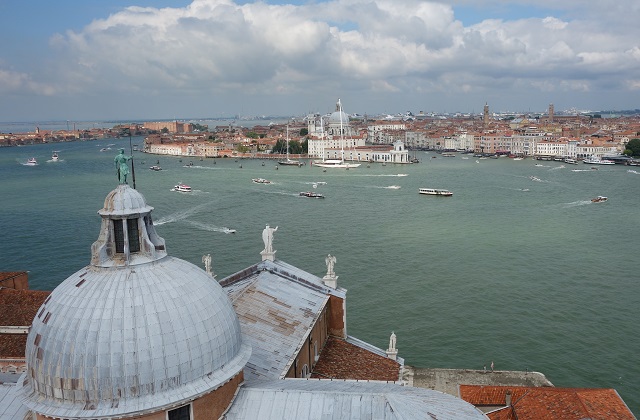 Venice has to be one of my favorite places to visit.  Is it because the food's so great or because I like getting seasick on gondola rides?  No, I love Venice, Italy, because I love art.
This past summer, after a few days at the the Milan Expo, I went with my mother and sister to see the Venice Biennale.  The Venice Biennale is a contemporary arts exhibition that takes place every two years in Venice. This year, the 56th Venice Biennale was host to many pavilions from countries around the world, from Ireland to Japan.  What's unique about the Biennale is that the art exhibition takes place in beautiful locations all over Venice.  Art galleries, most of which are concentrated in the Arsenale, Giardini, and San Marco, bring a modern flair to these areas of historical significance.
Imagine a massive dragon, the size of several boats, composed of scrap metal and pieces of machinery in the setting of Venice's old military base.  It was this sort of juxtaposition between contemporary art and historical architecture that was interesting.  It was not uncommon to be on a vaporetto down the Grand Canal and see an old palazzo, slightly crumbling but proudly traditional, next to a modern sculpture, garish colors and twisting, unnatural shapes.   I know one of the challenges of Venice is to continue to maintain the old historical sites, but it was fascinating to see the modern world coexist with the architecture of a clearly bygone age.
The central pavilion of the exhibition was titled All the World's Futures.  The pavilion's overarching themes were those of history, the future, and the intersection of the two.  Expecting some esoteric display of modern art that was not easily accessible, I found something quite different.  The art, whether it was hanging chandeliers of chainsaws dipped in tar or paintings of old women gossipping, took time to understand and look through, but conveyed to me a sense of how interconnected our lives are and how different themes can be brought together.
In the Arsenale and the Giardini, permanent national pavilions are built for each country to exhibit.  My favorite national pavilions were those of China, Italy, and South Korea.  The Chinese exhibition, titled Other Future, was in a giant warehouse in the Arsenale.  Although completely drab on the outside, the pavilion featured bright images of Chinese village life contrasted with stringed instruments dipped in dark waters.  The Italian pavilion, Codice Italia, focused on Italian contemporary art that was a mix of modern technologies combined with images commonly associated with the Renaissance.  There were different rooms that a visitor could see but not enter that featured video projections or statue art.  One room was entirely covered in projections of Renaissance art pieces or images that would move at dizzying speeds.  The South Korean pavilion, The Ways of Folding Space and Flying, had walls entirely covered in video screens.  The different videos all provided varying perspectives of one woman in the future who gains awareness of the outside world.
The Venice Biennale gave me a different way of looking at the world, one that required seeing art as reflecting and even challenging the values of society.  The combination of traditional Chinese painting with modern themes, such as instant communication or even the wall size human gestural drawings, forced me to look at art not as consisting of simple pretty pictures.  No, art was frustrating, hard to understand, or even controversial.  I do not think it's possible to ever fully understand the whole range of art exhibited at the Biennale, but what I enjoy is the challenge of trying to piece together a deeper meaning.