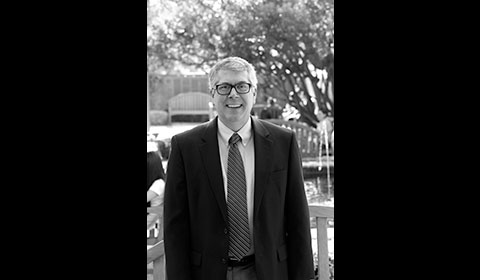 Head of Middle School Robert Bryan concludes his eleventh year at Marlborough this month and will assume the position of Associate Head of School at Viewpoint School, a K-12 school with 1200 students over four divisions, in Calabasas this summer. There, Bryan will "oversee personnel recruitment and orientation of new teachers, coordinate K-12 professional growth and development, teacher training, and evaluation; and supervise athletics, diversity, student wellness, and student trips, among many other duties," according to an official letter reporting his departure from Marlborough Head of School Barbara Wagner.
"[I am looking forward] to maybe paint on a slightly larger canvas, although I love this canvas, but still to be able to take the lessons that I've learned here and maybe apply them in the service of another community," Bryan said.
Bryan has served the Middle School as both an administrator and a teacher over the years. He has taught 8th grade Global Studies, which is now Global Connections II in the revamped Middle School history program, as well as Upper School Modern World.
Bryan considers "being able to conceptualize and implement" the recent changes in the Middle School history program an accomplishment. The new progression of courses is designed to give students a deeper understanding of the fundamental aspects of history, such as religion in society, so that students can understand the history they learn later better and more significantly. Bryan is in his domain teaching these courses, since he has an undergraduate degree in comparative religion with a focus on Asian studies and graduate degree in modern Chinese history
The absence of Bryan will certainly require an adjustment, though.
"Mr. Bryan will be greatly missed not only by me, but many. He has contributed a lot to this School and really cares about each and every student. Viewpoint is gaining a great man, and they're lucky to have him!" Middle School Assistant Melorie Cruz said.
The Marlborough community will welcome Sean Fitts, who was a Middle School science instructor at the School from 2007-2010, to replace Bryan as Interim Head of Middle School for the time being.
Just as Marlborough has benefited from Bryan's service, Bryan said he feels that he has learned things from his colleagues and the Marlborough Community. Knowledge about and appreciation for a single-gender education is among the things Bryan has gleaned.
"It's an environment that lacks judgment in some ways and provides a level of comfort that allows girls to really explore and challenge themselves and not have to worry about who's watching or who's judging or anything like that. I think it's a very powerful model," Bryan said.