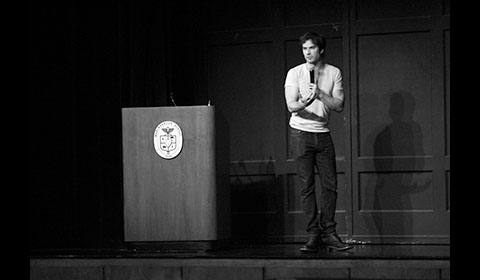 On Apr. 21, actor and activist Ian Somerhalder, founder of the Ian Somerhalder Foundation, spoke to the Marlborough community as the School's 2015 Earth Week speaker. Somerhalder's visit sparked reactions ranging from feelings of giddiness at having been in the presence of such a passionate star to feelings of having been insulted. Claudia '15, for example, said that she felt Somerhalder was "unprepared and condescending," expressing that she appreciated what he does for the environment but resented his lack of preparedness to speak to Marlborough.
Later that day, students were posting their opinions, some of which were mocking and disrespectful, on social media networks such as Twitter and Snapchat. Administrators at Marlborough became privy to this outbreak and took what they felt were the necessary steps to remind the student body of how the community should treat guests who come on campus.
Head of School Barbara Wagner, Assistant Head of School and Head of Upper School Laura Hotchkiss '86, Dean of Student Life Regina Rosi, All-School President Kamilah '15, and All-School Vice President Eliza '15 spoke to the Upper School, reminding the students of how Marlborough girls normally like to present themselves and how quickly and significantly social media posts can spread. The administration was made aware of specific students who contributed to the online damage, and those students had serious conversations with Hotchkiss and were asked to participate in the letter-writing and donations.
"Regardless of how we might feel about a guest who comes on campus, we want to treat everybody with respect," Rosi said, "I think this was a really good lesson of just think before you type, think before you post."
Each year, Marlborough's Campus Environment Council (CEC), which comprises every Class Council Vice President, the Student Body Vice President, two parents, and a host of faculty and staff members, plans Earth Week events for the School. The Ian Somerhalder Foundation (ISF), which "aims to empower, educate and collaborate with people and projects to positively impact the planet and its creatures," according to its website, embodies the type of environmental awareness the CEC hopes to inspire at Marlborough.
Several students and teachers volunteered to form a committee to devise a way for Marlborough to reach out to Somerhalder and make amends. Students have been asked to bring in money so that the School could make a donation to the earthquake relief efforts in Nepal in the name of the ISF. Certain members of the community also wrote letters to Somerhalder apologizing for the outbreak. As Eliza '15 pointed out, Somerhalder came to Marlborough to help inspire the community and to raise awareness about environmental issues for Earth Week, which the commotion surrounding his visit certainly accomplished. "He showed how easy it is to help the environment both in what he said and in his own actions," Eliza '15 said.