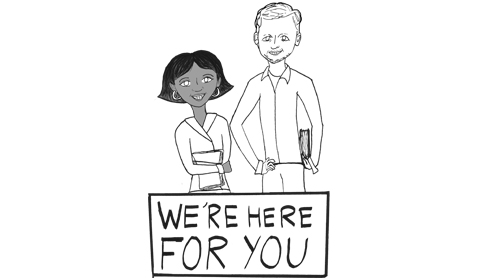 These days, it is harder to get into college than ever before. Across a myriad of colleges, the admit rates have decreased each year. In 2014, college acceptance rates were as low as 5.07% for the first time in history. In these harsh times, some students seek help outside the college counseling offered at their schools, and girls at Marlborough are no exception to this trend. Despite the fact that Marlborough has two full-time college counselors who are each assigned around 50 students, some girls still choose to hire professional admissions counselors. We at the UltraViolet believe it is unnecessary for girls to hire outside college counselors.
In many ways, outside college counselors can be a huge help. Even before the applications, these college counselors advertise that they can guide clients which classes to take, which extracurricular to be involved in, which summer programs to go to and much more. They are especially helpful for students who have specific needs, such as art students who have to send in art portfolios or students with learning disabilities: a specialized college counselor could provide more information about that area.
At schools with more students than Marlborough, there may not be enough individualized attention for a given student because there are simply not enough college counselors for the student population. A student can be lost in the large number of students coming from her own school without any guidance, not knowing which classes to take or which activities to pursue that will best prepare her for the college process. Consequently, if students consult with an outside college counselor even before high school, they can be more informed about which classes they should take and how the course tracking will play out through their high school career. An outside college counselor can help to distinguish the student by providing creative ideas about a student's activities as they are providing this individualized attention since most outside counselors limit the number of students they work with in order to provide the best service.
However, outside college counselors can add a lot of unneeded stress to a student's high school career. At Marlborough especially, girls already have high expectations from parents, teachers, tutors and themselves. It is unnecessary to add this extra pressure about college before your high school experience starts. Both college counselors and tutors cost extra money, but there is an important distinction between the two. Tutors help students achieve their personal best in a class, while college counselors put pressure on a student to follow a certain path that may not be her own choice. An outside college counselor costs money, and usually lots of it. Since we have great college counselors available at Marlborough, we at the UltraViolet do not think it is obligatory to hire an outside counselor at an extra cost. According to an article by Fox Business, the average national cost for a college counselor is around $3,600, but in large cities, such as Los Angeles or New York, the average is about $5,000 to $6,000.
The goal of getting students accepted to top colleges may contribute to the student pursuing activities and classes that are not her passion in order to fulfill the supposed criteria expected of an applicant to those schools. It takes extra time to meet with an outside college counselor, and do everything that they require for them on top of school work, extracurricular, and the school college counselors. The pressure on Marlborough girls is already there, but adding another outside voice to weigh in on decisions contributes to an even higher degree of stress.
Often students are meeting with college counselors too early, and this just adds to their building stress about the college process. It is unrealistic to believe that most ninth graders know what college environment they want, where they want to live and what they want to study. Although it may be helpful for some students to begin thinking about these types of things, many girls are just too overwhelmed by the unending list of questions, which often aren't answered until the end of the college process in senior year. Outside college counselors often give the same advice that the school counselors give, so it is sometimes just a reiteration of everything we've heard before, many times over.