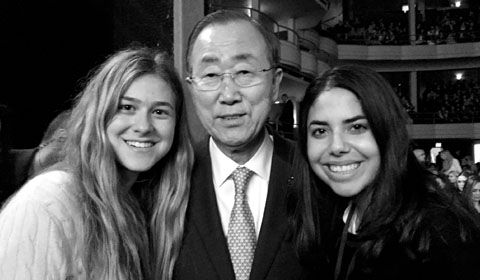 On Friday, Mar. 6, Annie '16 and I, the co-presidents of Girls Go Global, Marlborough's girls' rights and human rights club on campus, left for New York with history and social sciences instructor Catherine Atwell to serve as student delegates at the 59th Annual Conference on the Status of Women (CSW) at the United Nations.
Each year, members of Girls Go Global who are 16 and older have the opportunity to apply through Girls Learn International to be a student delegate.  Girls Learn International, or GLI, aims to educate U.S. students in the global movement for girls' access to education and is part of the Feminist Majority Foundation and the Working Group on Girls, all of which have the common goal of making sure that women's and young girls' voices are being heard.
The CSW, held by UN women every year at the UN Headquarters in New York, hosts representatives from UN Member States, non-profit organizations, and student delegates in order to promote gender equality, improve global gender equality standards and discuss the reality of women's lives throughout the world. During the second week of the conference, some member states agreed on further actions to promote women's political, economic and social rights.
Atwell, who has been to the conference the past three years with various Marlborough girls, explained that this year "there were a lot more organized opportunities for girls to get together and speak and interact.  Each year there have been more and more opportunities for girls to be included in the program in a more organic and holistic way as opposed to being an add on."
At this year's conference, participants assessed progress made towards goals of worldwide gender equality set at the Fourth World Women's Conference in Beijing 20 years ago. As girl delegates, we had the job of ensuring that the conversations and debates taking place were not only focusing on women's rights but also the very specific rights of girls that need to be attained in order to achieve full gender equality. We did this by asking questions and prompting discussions that were particularly focused on girls and their specific needs.
"This year was much more of a celebration and a reflection back on progress that has been made, and prior years have been more dealing with the particular substance of the commissions topic," Atwell noted.
The first two days were orientation, during which we learned what our roles as student delegates would be.  Annie and I were both given speaking roles; I moderated a panel on Girls' Political Empowerment, while Annie spoke on a panel that focused on the Beijing Platform and what still needed to be addressed. As a moderator, it was my job to introduce panelists from all over the world, including Tanzania and the Dominican Republic, as well as discuss the importance of girls' political empowerment and why it is so vital in ensuring girls' rights.  On the panel Annie was on, girls discussed what they felt needed to be done in order to improve upon the Beijing Platform that happened 20 years ago.  Annie specifically discussed the need for more women in political roles.
Since Sunday, Mar. 8 was International Women's Day, we also had the chance to be part of the largest march in history for gender equality. Alongside over 30,000 people, we marched from the United Nations to Times Square to celebrate International Women's Day and demand equality.  We marched through the street yelling chants such as "ERA, ERA, we wanted equal rights today!" and "What do we want? – gender equality! When do we want it? – now!"
Throughout the week, we attended various panels at the UN on topics ranging from cyber-violence and sex trafficking to women's property rights in Eastern Africa. Additionally, we were able to monitor a session of officials from around the world who were discussing progress and improvements regarding the status of women that their countries need to make in the General Assembly Hall at the UN.
Finally, we had the privilege of hearing former Secretary of State Hillary Clinton speak at the UN Women's event for International Women's Day, and at the same event, we met UN Secretary General Ban-Ki Moon, Melinda Gates and President of Liberia and Nobel Peace Prize Winner Ellen Johnson Sirleaf.
"For me it is so great to see…how empowering the experience was," Atwell explained.