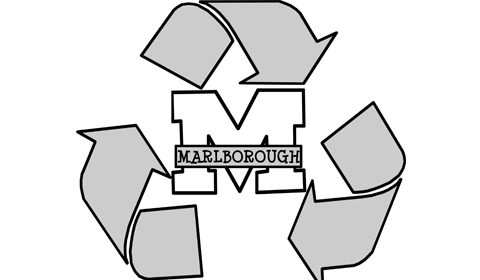 Members of the environmental council at Marlborough are excited to introduce Green Map, a website where people can look at a map of their community to learn the whereabouts of local sites like recycling centers, community gardens and businesses that are consciously green.
The purpose of a Green Map is to give people an easy way to be proactive and educated in making the world greener. Using a Green Map makes helping the environment as simple as choosing somewhere "green" to eat or shop. The map highlights locations like farmers markets, recycled clothing stores and restaurants that are organically plant-based, like Cafe Gratitude.
Green Map, which was invented by eco-designer Wendy Brawer of Modern World Design in 1992, created the map as a tool for educational and environmental purposes for the public.
The Los Angeles-area Green Map was created by a consortium of students at eight local independent schools—Marlborough, Harvard-Westlake, Mirman, Campbell Hall, Turning Point, Viewpoint, Wesley, and Crossroads—"to create and eventually knit together a dynamic portrait of environmental activities and opportunities throughout the LA community," according to its website.
Head of Middle School Robert Bryan, who is the currently the coordinator of the Los Angeles Green Map that Marlborough is involved with, and science instructor Lisa Ellis, are working to draw attention to the Green Map within the School community.
According to the Los Angeles Green Map's website, "In 2013, several Los Angeles-area independent schools met at an Environmental Summit to share concerns and strategies about our work as environmental representatives and advocates in our schools..At our third Summit in the Spring of 2014, green mapping was considered as a constructive and creative way to address these issues…Creating environmental maps for our campuses and surrounding areas was seen as a way to promote environmental awareness and action not only for members of the school community, but also for vendors and others in the Los Angeles community. It was also seen as a way to highlight our efforts generally in order to gain more support from administrators, teachers, parents, and most importantly, other students."
Currently, anyone can look at the Green Map website (www.greenmap.org) to find new environmentally friendly places, but only members can "pin" environmentally friendly locations to the map.
At Marlborough, the vice presidents of every grade level were added as members to the site who can add pins to designate sites on the map. During the next few months, every grade's student council will be talking about the Green Map in class meetings to spread the word, to encourage students to look at the site, and to invite them to become members themselves.
According to Eliza '15, All-School Vice President and co-president of Action to Clean Up the Environment (ACUTE), the Green Map program encourages small change in everyday lives.
"Many people know that the environment and economy need improvement but don't know how to save it. Green maps provides an easy way to save and improve our world," Eliza said.
According to Eliza, the purpose for exposing the School to the Green Map is to encourage students to use the site and become more aware of the choices they make. "Spreading awareness of the environmental possibilities make students environmentally conscious in their day-to-day lives," Eliza said.
According to Bryan, the plan for the future is growth.
"We want to get more sites on the map and bring attention to it. We are trying to get more people to download the mobile app and bring more and more people to contribute. This website/app can connect people in their daily lives to make good environmental choices," Bryan said.