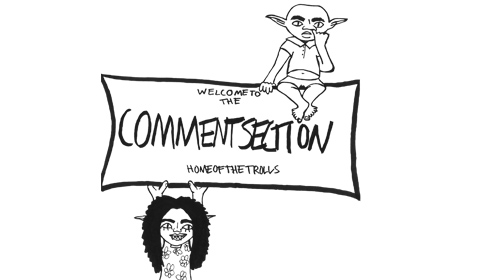 As social and online media becomes an increasingly popular source of news worldwide, people of different cultures and opinions have found that they can share their thoughts behind the protection of a screen. These voices can be heard on social media sources such as Twitter or Facebook and can be read in op-ed pieces in online news sources. However, what truly stands out in online posts is not what the author writes but rather the comments that the readers write in response.
More often than not, comments on articles or blog posts are meant to rebuke either the original post itself or respond to other comments. As a result, the comments section of many posts, opinionated or not, tend to flare up into all-out virtual verbal wars, in which the consequences of one's words account for little, thanks to anonymity. Unfortunately, since anybody can partake in these debates, there are plenty of arguments that involve bad grammar, ignorance, or irrelevance, which makes comments hard to read. Some comments are plainly meant to insult either the author and his or her post, a commenter on a post, or a certain demographic of people.
As a result, comments sections have the reputation of being the cesspool of the Internet, where careless idiots spend their time "trolling" or casually throwing hurtful insults at people. Where ignorant imbeciles go to share whatever uneducated views they have with anyone willing to read them. Where grammar freaks point out every grammar flaw in others' comments and therefore make their arguments and opinions seem superior to those who oppose them. And where the seemingly calm, composed, and educated person futilely attempts to open a civil discussion among deaf brutes whose only method of discussion is through a barrage of death threats and unprovoked insults. Because of this, it is commonly advised by those who aren't familiar with the ins-and-outs of the Internet to avoid the comments section of any post altogether, for fear of losing one's faith in humanity.
However, there is a glimmer of hope in the mosh pit of the stubbornly clueless, the easily offended, and the quick to judge. Beneath every comment and opinion lies, upon closer inspection and speculation, information that could benefit everyone in the long run. That glimmer of hope is the ability to acknowledge the fact that such people–those who you agree with and disagree with, those who have perfect grammar and those who seem close to illiterate, those who seem to have done extensive research on the subject and those who haven't–exist, and that their voices should not be ignored.
Sure, it's easy to ignore the haters. It's easy to say that they're stupid, uneducated, misunderstanding or completely missing the point, and it's easy to say that what they're saying doesn't matter, because they're wrong and you're right. But in the end they are real people too. With their voices and opinions, they too are capable of both making and preventing change and progress. You can go on agreeing with and adding to the discussion that supports your ideals and beliefs and ganging up on the one person who happened to stumble into the wrong thread of comments, but in the end it's those who you disagree with that you need to prioritize in discussion, because you can't win over someone who's already on your side. If you truly believe in change, and if you truly put your faith in the art of debate, it's important to listen to the comments of those on the other side, no matter how ignorant or uneducated their comments seem. This isn't just to respect another person's view, but it's also to expand your own view on a situation.
But what of those who stubbornly disagree, who say the same thing over and over again without any consideration for what the opposing side has to say and has said? It would be too fantastic to imagine a scenario like this in which such a person could be successfully argued against. But it's not easy to remember that you're not the only ones there, furiously typing to each other in a private chatroom. Others will see that you have no valid argument, and those who agree with chime in with you, while those who disagree are made to think. You may be the person to realize that you need to look deeper into yourself and into the details of the subject, and you may be the person to realize that maybe, you're the hater, the uneducated, the stubborn, or the misunderstanding one.
Reading comments on the Internet is not just a wild adventure that will devour your faith in your fellow humans and it's not just a horrendous war zone in which the soldiers don't matter as much as the reason it's being fought for. Comment sections can aid personal development, as ridiculous as that may sound, because they force you to question your beliefs and values, and reconsider why you are right, or wrong. All it takes is an open mind.