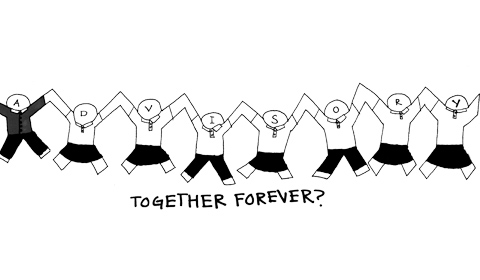 As part of the Strategic Plan initiative to "invest in teachers and students," this year Stuart Posin, Director of Academic and Administrative Technology, and Jennifer Garrison Ross, Head of the Science Department, co-chair a committee of staff and faculty formed to reevaluate Marlborough's advisory system. This committee is working to strengthen the advisory program in order to give students the proper mentorship they need from teachers and create lasting relationships between teachers and students that go beyond the ten-minute advisory Marlborough has now. As a result, this committee will address concerns with the advisory program that have been brought up in many different surveys that both Marlborough students and parents have taken.
In looking at the old advisory system, the committee is "taking a completely fresh look at the advisory system and starting from scratch," according to Garrison Ross.
Although the committee has nothing finalized right now, they are working with advisors, administrators, students, and other schools to consider all ideas and to coordinate the best system for the Marlborough community.
Posin said that the new advisory program will be "really for the students and to support the students both emotionally and in reaching their academic goals and personal goals."
Currently, girls check in with their advisors for attendance for ten minutes in the morning and occasionally convene for longer sessions to discuss important school issues, such as Honor Code. Advisors are expected to mentor and support the girls through their busy year. Particularly in the 7th grade, the advisory program helps the girls make friends and connect with a faculty member within the first week of school.
On Nov. 18, the committee talked with faculty to get their feedback on what would be the most impactful change to the advisory system. From there, they have been working to review all feedback and will hopefully be done by the end of the year school year, according to Garrison Ross.
The committee meets about twice a month and has talked with staff and faculty at other schools about what their advisory programs look like. Posin and Garrison Ross co-chair the committee, while Nick Hernandez, Director of Finance and Operations; Jessica Chaintreuil, English Instructor; Derek Poirier, Manager of Human Resources; and Emily Vaughn, School Counselor, all serve on the committee as well.
Sydney '16 and Abby '16, two current Junior Advisors for an eighth grade advisory, would like to see times set aside before lunch so that they could just talk with their advisees and have lunch with them without having to do a scheduled activity.
"I think it would really be nice to be able to get to know them better, and I think a longer time than advisory would let us all bond better," Sydney said.
She hopes that the committee will consider this and the JAs roles as they make changes to the system.
Overall, the committee is working to strengthen the Marlborough community by readjusting the advisory system so that it has a more lasting effect on both the students and faculty and staff.