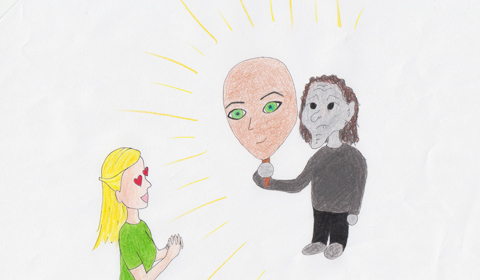 Too much of our culture revolves around the spotlight. We as a society fall to our hands and knees, worshipping our "idols" as the Egyptians did their gods. Going as far as to say, as many of us do, that you want to be someone else overrides any positive impact that having an idol might have.
Idolizing a singer, model, politician, older sibling or a popular kid at school can be motivating. Much of the teenage world is infatuated, for example, with Beyoncé, who is beautiful, talented and successful. Teenagers can certainly be inspired to become empowered artists by observing Beyoncé and striving to match her success. If your older sister is the captain of her volleyball team, you might "idolize" her and aim to match her accomplishments, thereby keeping you focused until you reach those goals.
To adore someone and to devote oneself to that person is not a crime; everyone has role models. But when we playfully say, "I'm obsessed with her," the playful part diminishes into a morsel of plankton sloshing around in a sea of delusion.
At the top of the food chain, as Miranda Priestly assures Andy Sachs in The Devil Wears Prada, "Everybody wants to be us." But how does one draw the line between motivating idolization and distracting idolization?
If you are so concerned with wanting to replicate every move of your so-called idol, you lose touch with yourself. In turn, the idol becomes susceptible to condescension and arrogance.Perhaps the most significant problem with the excessive idolization that weighs on our society is idolizers turn to the flaws of those that they revere. We see the outer shell of the multilayered complex. We see the glassy top of the wave-ridden lake. Beyoncé can put on a spectacular show and "wow" the red carpet, but do we really know what goes on in her personal life? She and Jay-Z may appear to be a power couple, but now even the public is becoming aware of the cracks in their bond.
A popular girl at school may dress perfectly every day and rule the school's social scene, but do we know if her sense of confidence is false? Perhaps her family is falling apart, so she asserts her power over her peers to feel a sense of control. In worshipping the fragile glass balls that our "idols" float around in, we indulge ourselves by forgetting that those superficial values are not the building blocks of human beings.
If your wish came true and you became your idol, would you really want all the underlying sadness that might very well come with her life?