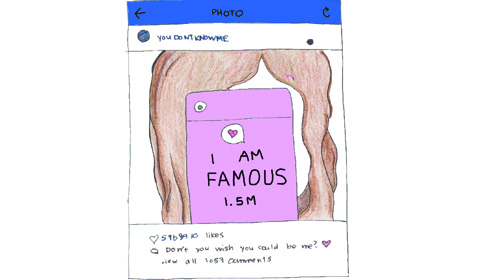 Although I don't have an account, I have scrolled through my friends' Instagram feeds to find posts primarily from teenage girls, ever since the app was released in 2010. All of these photos fall under one of three categories: aesthetically pleasing foods, beautiful places, or people. And, some users have managed to climb the ranks of the Instagram hierarchy and acclaim the sought after "Insta-famous" title. This leaves teenage Instagrammers wondering how and why these people have such an outrageous number of followers for no apparent reason.
Celebrities' accounts also strike us with a feeling of jealousy every time we scroll through one of their Instagram accounts. While we don't know these people personally, we spend large chunks of our time examining their photos and trying to mimic their so-called perfection. Why do we idolize these accounts of individuals we don't know? What makes us click "like?" In part, this can be blamed on the media's false image of perfection as seen in ads, movies and television that we subconsciously admire.
Celebrities are already famous; Instagram is not a way of accumulating fame but rather a way to communicate with their fans. By having daily access to Kim Kardashian's life via perfectly tailored and edited photos, an already-obsessed fan may become even more convinced that she leads a flawless, ideal life. Instagram enables our idolization of celebrities to continuously grow as they appear over and over again on our news feed. However, we must remember that photos on Instagram are far from reality. They have been scrutinized, edited, cropped, enhanced, rotated and distorted every which way. It is easy to admire a seemingly ideal life depicted by sharply contrasted photos, but it is important that we don't use Instagram as the true measure of someone's life.
Beyond this category of already famous celebrities are the Instagram users whose popularity is rooted in their account. Some users treat their account as a portfolio for their art or photography; others use it for humor, and many just post photos of their everyday happenings. It confuses me how people with normal lives and no celebrity status are able to accumulate such fame on Instagram. In fact, I believe that these non-celebrity users with thousands of followers are an even unhealthier obsession for teenagers than celebrities. While celebrities often build popularity from movies, television, and music, these Instagram-famous teens are leading completely normal lives. As teenage girls, we identify with these non-celebrity users and often see their popularity as something we want and can achieve. We become overly concerned with our account, social media persona, and followers.
Girls between the ages of 12 and 17, the age of the majority of students at Marlborough, devote their care and time to maintaining a solid group of followers and ultimately to creating a social media persona. This obsession with developing a social media following is essentially an obsession with feeling idolized. We want to make our own lives look desirable to others. Some may argue that these photos are not for other people but for themselves. Yet, evidently, we want these photos to mean something to others because, otherwise, why would we feel the need to post them? Taking photos for the sake of Instagram makes the photo less personal. The photo's purpose is no longer to capture and cherish a memory. Instead, it becomes part of someone's virtual image (real or fabricated).
Instagram is an entertaining way to connect with friends, celebrities, and our favorite bloggers. But, I have never had an account and do not plan on it. Often times, I see how easily people can get caught up in endless scrolling through vibrant photos, dreaming of tropical vacations and pretty lattes. However, I don't want to spend my free time admiring someone else's superficially ideal life while attempting to convey my own enhanced image through a series of photos.