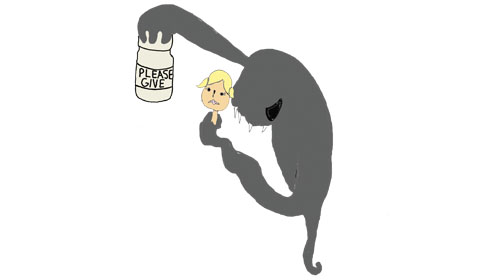 As I was unpacking boxes from our family's 2013 move to Los Angeles, I found the piggy bank that I used when I was six or seven. It was from the days when my parents gave me a weekly allowance of 100 Hong Kong dollars, approximately $12.89 in U.S. dollars, in an effort to teach me how to manage money. I remember creating budgets on pink post-it notes, making sure to include my monthly donations to United Way Worldwide, a non-profit organization. Though I could never donate as much as working adults (I gave maybe $20 a month), I always trusted that the money would reach people all around the world who were in need.  It turns out that my trust was undeserved.
In 2004, Oral Suer, the CEO of United Way's Washington, D.C. chapter, was convicted and sentenced to jail for defrauding the charity of roughly $500,000 by misreporting personal expenses and taking retirement funds, according to the New York Times.  Naturally, I was shocked to learn of such dishonesty. Yes, the amount of money I donated to the United Way wasn't much, but I had always been under the impression that I was contributing to the charity and not to someone's individual expense account. After years of donating, when the story of the financial scandal involving Suer broke, I was left questioning if any of my donations actually helped victims of the 2004 Indian Ocean tsunami. Or had my money, so carefully saved in its pink porcelain piggy bank, gone to pay for Suer's private travel and retirement? I had no way of knowing.
This is not to say that all charities are dishonest or corrupt. Many charities are trustworthy and truly do good, but you can never be too safe. My motto is "Trust, but verify."
To this day, charities receive more trust from the American public than any other type of organization. Many people assume that charities are clean of corruption by nature. "Money for Good", a survey done in 2010 by Hope Consulting, found that 30% of America's wealthiest families donate to charity, but only a third of them investigate a charity before donating. Of those who do research, only a quarter spend over two hours thoroughly investigating the missions, histories and reputations of charities. Likewise, the government only really intervenes when a charity executive's misconduct is revealed, like with Suer.
People are often shocked to hear that many charity executives earn six figures. Charities are mainly composed of professionals rather than unpaid volunteers. So, if a large portion of money raised goes to pay the employees, what fraction of collected funds actually goes toward helping the lives of those who the charity is aiming to help?
Thankfully, details about the efficiency and finances of most charities is easy to find by using the Internet. Sites like GreatNonProfits and Philanthropedia publish information about which charities effectively provide aid to those they are trying to help.  Charities like Kiva and DonorsChoose.org are thriving because they provide the public with information about exactly how they allocate funds.
Charity Navigator, a non-profit dedicated to evaluating charities in America, rates nonprofit organizations by looking at financial stability and transparency.  The site's impact rating assesses whether a charity publishes information about its operation but does not check how accurate the information is. Although not completely accurate, I find that imperfect information is better than nothing.
Over the years, I have chosen to donate to other charities, like Kiva, that I have confirmed to be worthy of my trust.  Since the incident with United Way, I have become more wary.  I trust charities that I can verify have integrity.   Individuals may trust charities, throwing money at whichever cause they think is worthy, but they are forgetting the possibility of corruption and inefficiency. That's why it's important to check the background of each nonprofit organization before donating. The reality is that not every organization is perfect and deserving of trust. As I said before, trust but verify. That's the only way to save little girls for breaking open their piggy banks for nothing but waste and misuse.