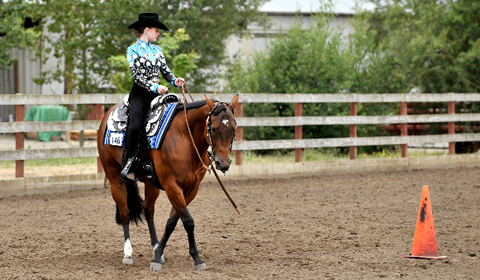 On Oct. 4, Alyx '15 won 16th place in the Youth Horsemanship event at the AQHA World Championship Show and is now ranked 16th in the country for this event of western horseback riding. Alyx, an avid equestrian since she was just two-years-old, credits her family's support through her years of hard work.
"My mom has been riding since she was a kid, and when I was a super tiny baby, my mom would take me to the barn with her, and she would let me ride some of the older horses. She would lead the horse around, and I would sit on the horse. But I was in my first horse show when I was two," Alyx said.
She pointed out that western horseback riding is different from the English riding that most riders at Marlborough do because the horses are bred and trained entirely differently. The disciplines of English and western riding have a long list of differences and are difficult to compare, but one of the main differences is the way the saddles are made: the Western saddle has a horn and is larger and much heavier than an English saddle. In addition, the stirrups, into which a rider places her feet, are much longer in western riding than those in English riding. Alyx also noted that in English, the horseback rider has two hands on the reins, and in western the rider only has one hand on the reins.
In western riding shows, there are different events. She competes in an event called horsemanship, in which riders have to perform specific patterns that they must learn on the morning of the show.
"The challenge of horsemanship is that you never know exactly what to expect so you have to be ready for anything. Sometimes a pattern has maneuvers that you happen to be good at, and other times it can be the exact opposite," Alyx said.
To prepare for horse shows, she rides three to four times a week during the school year for three to four hours and almost every day during the summer. Alyx trains at the Los Angeles Equestrian Center in Burbank with her trainer, Mike Dunn, and travels all over the country for these competitions. She most frequently competes in shows in Arizona, Oregon, California and Nevada.
"The places I go to are super random and usually in small towns. But I really like getting to see places where there are small communities where everyone knows each other. It's just really sweet and nice to see places that are completely different from Los Angeles. It's easy to sometimes forget that there are such great places all over the country other than just big cities, and I really feel like I learn a lot about our country in these small towns. Every place that I have traveled to for horse shows, I have learned or seen something new and interesting," Alyx said.
Alyx's mother, Elizabeth Tauber, said, "watching Alyx compete, especially at this last World Show, makes my heart ache with joy and my eyes fill with tears. I have no deeper, profound respect for the amount of sheer grit, hard work and focus it takes to get this far and succeed. I have shown horses my whole life, but watching Alyx win brought me to my knees with tears. I was so happy for her."
Alyx's talent, combined with her work ethic, have brought her success in the show ring, but she says she also enjoys every element of what she does.
"I am completely obsessed with horseback riding. Sometimes I see women in their eighties who are super athletic and still riding, and I hope that I will be one of those ladies when I'm older. I really love this sport and hope to do it for the rest of my life," Alyx said.