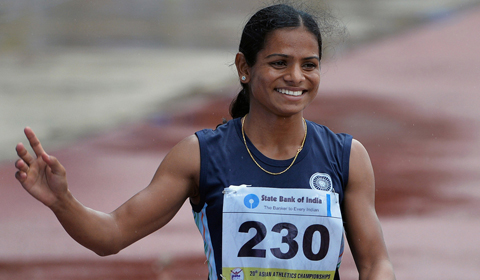 Imagine training every day to be a professional athlete at the Olympics. After all the hard work, the tears, the sweat, the time, you are told you cannot compete because of something naturally occurring in your body, something out of your control.
Dutee Chand, an 18-year-old sprinter from India, faces this challenge now as the Athletics Federation of India bans her from competing with other females because her naturally high levels of testosterone place her in the male range as determined by the International Association of Athletics Foundation. A condition, called hyperandrogenism, causes this abnormality. A study published in the Journal of Clinical Endocrinology and Metabolism in 2011 revealed that 7 in 1,000 professional track and field athletes have the same condition and a blend of female and male anatomy. In order to continue competing, Chand must receive surgery to limit her testosterone production or take hormone-suppressing drugs. Chand opted to forego the recommended treatments and instead decided to challenge the ban that stands between her and her dream by appealing to the Court of Arbitration for Sport in Switzerland.
Chand talks about her body image based on what doctors were telling her at the time of her testing.
"I was made to understand that something wasn't right in my body, and that it might keep me from playing sports," Chand told the New York Times.
The controversy around the division between male and female athletes has come to the spotlight in the last few years. Caster Semenya, a long-distance runner from South Africa, was also barred in 2009 because of the same condition but underwent treatment and is competing again. Due to the humiliation on her part, the organization decided to base the gender test on testosterone levels. Like, Semenya, many athletes with hyperandrogenism undergo surgeries quietly or leave sports altogether.
Science Instructor Jay Buckley, who coaches 7/8 cross-country, disagrees with the ban.
"So, let's take it the other way, are you going to say a man has unusually low testosterone levels, so now they can compete with females? That's ridiculous," Buckley said.
Chand's supporters argue that testosterone should not be used as the gauge to determine whether a female athlete can compete against other females because there is no scientific published proof that it offers an advantage.
Chand spoke about her reaction to her situation in an article for the New York Times by Juliet Macur.
"I cried for three days straight after reading what people were saying about me," Chand said, "They were saying, 'Dutee: Boy or girl?' and I thought, how can you say those things? I have always been a girl."
Katherine '15, a varsity cross-country and track runner, comments on how the media criticizes the rare female athlete in the media spotlight.
"In running, when you do get a female athlete who is really seen a lot in the public eye, that athlete tends to get a lot of backlash about body types," Katherine said.
Chand was pulled from the Commonwealth Games in July and was evaluated by the Sports Authority of India. She underwent a blood test, a visual exam of her naked body and magnetic resonance imaging exam (better known as an MRI).
Chand continues to fight her ban, but even if she loses, she says that she will still be involved with the sport, whether she is running or coaching.
"I feel that it's wrong to have to change your body for sport participation," Chand said, "I'm not changing for anyone."