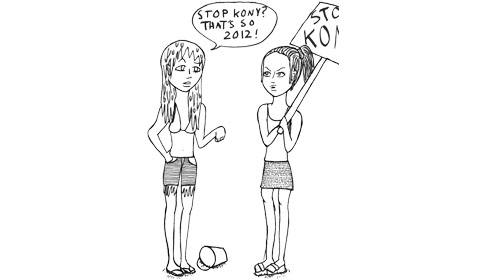 On July 14, 2014, Malala Yousafzai met with some of the parents of the 276 teenage girls who were kidnapped from their school in Nigeria by the extremist Islamic group Boko Haram three months earlier. The #BringBackOurGirls campaign went viral over Twitter, with even First Lady Michelle Obama supporting the trending hashtag. However, today, six months later, 219 kidnapped girls have yet to be rescued, and neither strong Nigerian nor American government measures to return the abducted girls have been implemented. Additionally, #BringBackOurGirls has been largely forgotten.
We at the UltraViolet believe that, while social media may be effective in bringing short-term awareness to human rights and charity campaigns, it is ineffective in bringing about lasting change. While hashtags and tweets may trend for a couple weeks, the actual situation can go unsolved for months and even years. We urge girls not to latch onto a hot trend and then forget about it after it loses popularity.
The School should also make an effort to help maintain awareness of charitable causes. Last year, Community Outreach rallied girls to take pictures of themselves with signs saying #BringBackOurGirls and asked girls to wear red to school in support of the cause and to gather on the field to take a picture. While the effort at first to spread awareness was a great success, the School should maintain interest in the cause until it is resolved. #BringBackBringBackOurGirls
This summer, the ALS Ice Bucket Challenge swept the nation, garnering donations for and awareness of Amyotrophic Lateral Sclerosis. Videos on Facebook and Instagram of everyone from celebrities to bored teenagers dumping buckets of ice on their heads became the new trend. Nevertheless, once summer ended, the Ice Bucket Challenge disappeared from everyone's feed. Although the ALS Association raised over $100 million over the summer, donations are already slowing down. The average donation was over $100 on Aug. 21, 2014; a week later, the average donation was $30.
Kony 2012 has also blown over since its debut two years ago. On Mar. 5, 2012, Invisible Children released a 30-minute video concerning the African military group Lord's Resistance Army (LRA) and its leader Joseph Kony, who abducted children and forced them to become child soldiers. Invisible Children's mission was to stop Kony by the end of 2012. Their YouTube video gained over 100 million views over 6 days, making it the fastest growing viral video ever. Although its media attention resulted in a U.S. Senate Resolution to send 100 troops to advise local forces and African Union sending troops to stop Kony, he wasn't captured. Two years later, Kony is still on the loose, and Invisible Children has become financially unstable and will possibly close its doors by the end of 2014. In addition, the co-founder of Invisible Children, Jason Russell, was arrested for public indecency, showing that just because some can make a viral but powerful video is also up to the task of campaigning for a serious human rights issue. While the short term fame might have received an inundation of donations and views, it did not lead to the capture of Kony.
In another example, red equals signs took over Facebook and Twitter profile pictures during the spring of 2013 after the Human Rights Campaign promoted the icon in support of same sex marriage. The new icon was released to show support for two Supreme Court cases on same sex marriage. Numerous celebrities, from Martha Stewart to Beyoncé, and U.S. senators and governors also shared the red logo on their social media accounts. While the flood of red profile pictures helped to bring attention to the two gay marriage cases, how many red equal sign profile pictures does one see today? Not many. Even though 32 states have legalized same sex marriage, 18 states still have bans as of Oct. 2014.
We should not only blog, tweet, and post about these issues but also get off our phones and computers and go out into the community to actually spread awareness and bring about meaningful and lasting local change. It is due to the superficial retweets and posts that online charitable campaigns die out before they can make any real change.
Rather than hiding behind a computer and editing your latest charitable challenge, go out and help the cause in a more meaningful way. Lobbying local government or writing letters to politicians are more effective ways to enact change than jumping on the online bandwagon of the newest trend. The School should provide girls with opportunities to get directly involved with trending charitable activism and not forget about humanitarian movements like the rest of the tweeting world. If you're passionate and able enough to dump a bucket of ice water on your head and take a picture with a sign of a trending hashtag, then you should also join or create an active campaign outside the World Wide Web.