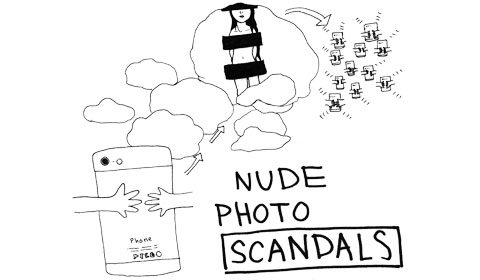 In August and September, an anonymous hacker gained unauthorized access to various celebrities' phones and published nude photos of these stars on the internet. The photos were first posted on a website called 4chan, and attempts to determine the identity of the hacker have been unsuccessful. Stars whose revealing photos were broadcasted on the site include Rihanna, Kim Kardashian, Kate Upton and Nina Dobrev. The most famous victim of the photo hacking scandal, however, is actress Jennifer Lawrence. Lawrence spoke about the matter in a comprehensive interview in the Oct. 9 issue of Vanity Fair, calling the incident a "sexual violation." Some claim that Lawrence overreacted, but we at the UltraViolet believe that the decision of a celebrity, or any other person for that matter, to take nude pictures is his or her own personal choice, and it is both intrusive and morally wrong for these photos to be shared with the public without that person's consent.
Lawrence's case has recently been the topic of much conversation, causing heated internet debates on websites such as debate.org. In Vanity Fair, Lawrence voiced her strong feelings of disgust and anger towards all who have been involved in the incident.
"It is a sexual violation. It's disgusting. The law needs to be changed, and we need to change. That's why these web sites are responsible," Lawrence said. The actress continued to voice her disapproval towards, not just her hacker, but those who viewed the pictures online at 4chan and other websites as well. "Anybody who looked at those pictures, you're perpetuating a sexual offense. You should cower with shame," she declared.
We believe that Lawrence's response was both justified and accurate. Lawrence should be in full control over what is broadcasted to the public when it comes to her body. She summarized this idea perfectly when she stated that "[i]t's my body, and it should be my choice, and the fact that it is not my choice is absolutely disgusting." Lawrence intended for the photos to be seen only by herself and her then boyfriend of four years.
The horrified reactions of many people to the scandal is telling of the double standard between female celebrities and their male counterparts in relation to nude pictures. In contrast to many deriding and negative remarks to Lawrence's pictures, responses to Dylan Sprouse's were of a far more humorous and congratulatory nature. Buzzfeed even posted about the "Best Reactions to Dylan Sprouse's Nude Pics." One of the many comical responses to the photos on Twitter was that of Sprouse's twin brother, Cole, who tweeted, "now they've basically seen me naked which is weird I guess." We believe that, not only is it is unjust that responses to celebrity women's nude photos have been significantly more degrading, but it alludes to the broader double standard regarding men and women's bodies.
Some argue that Lawrence's decision to become a public figure warrants this kind of exploitation, and some even say that she has no right to be upset about the scandal when she voluntarily exposes herself on film and covers of magazines. What these people fail to realize is that, regardless of her career choice or decisions to reveal herself under certain circumstances, she has the basic human right to decide what she would like the public to see when it comes to her body. "Just because I'm a public figure, just because I'm an actress, does not mean that I asked for this. It does not mean that it comes with the territory," she argued in Vanity Fair. Unlike when she was shooting movies or posing for magazine shoots, Lawrence was unaware that the photos she took of herself posing nude in the privacy of her own home would be broadcasted to millions.
Those who view the nude photos are encouraging this sort of ill-treatment, just as the celebrities' hacker did. If you view these photos, you are supporting this kind of oppressive exploitation and depriving celebrities of the basic respect that you would wish to have if you were exposed to the public in such an unjust manner. As Lawrence stated in Vanity Fair, "[She} didn't tell you that you could look at [her] naked body."