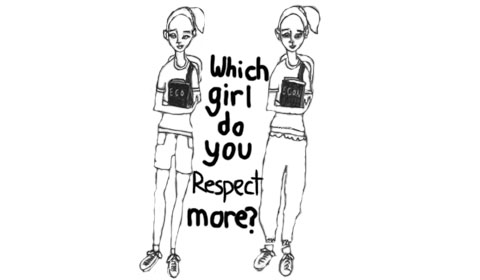 On the morning before the last day of first quarter, Marlborough students and employees received an email informing them that the next day students would be able to leave their uniforms behind and dress up (or not) for the first free dress day of the year. The announcement was followed by the usual list of attire considered inappropriate for school, such as open-toed shoes or crop tops. Although most Marlborough girls have come to expect these guidelines, many were shocked and even upset to discover that this year the list also included a first-time ban on shorts.
When the new uniform went into effect at the start of the 2013-2014 school year, one of the new requirements was that uniform skirts be no more than three inches above the knee. Along the same lines, shorts and skirts worn on free dress days were also expected to follow this rule. This year, however, was the first time that the School banned shorts altogether, an action that dismayed many students and caused several to take to Facebook to argue against the change.
We at the UltraViolet recognize the importance of enforcing a dress code that is appropriate and conducive to maintaining a healthy learning environment. However, we believe that the new ban on shorts is not only impractical, but also responsible for sending a harmful message about body image to the School community, and we respectfully disagree with the administration's decision.
First, from a practical point of view, forbidding girls from wearing shorts does not make logical sense for a school that is located in Los Angeles, where temperatures often rise to a point at which it is uncomfortable to wear pants or leggings. Although students do have the option to wear skirts, many view free dress as a welcome break from the uniform and would therefore prefer to dress comfortably in shorts rather than in an item of clothing they wear to school every day.
Second, the Student Handbook of Expectations explains that on free dress days, students "need to remember they are representing the School and should dress appropriately." Requiring students to dress "appropriately" and present themselves respectably is indeed important in a school that aims to prepare girls for success in the professional world. However, while students are forbidden from wearing a nice pair of shorts on free dress days, they are allowed to walk around in yoga pants, leggings or even pajamas, which are much more casual. If the definition of "appropriate" attire means keeping students looking well-put together and professional, then shorts have no place on a list of unacceptable clothing.
That being said, we recognize that "appropriate" dress does not rest solely on casualness. Many shorts are simply too short and too revealing and would indeed be distracting and inappropriate for school. But many are not. Stores all over the world stock shorts that look perfectly respectable and are more than three inches above the knee. If the School wishes to prevent girls from wearing shorts of an unsuitable length, it can simply make use of the conduct infraction system; teachers often distribute infractions for short skirt lengths, so they should be comfortable applying the same system to shorts as well.
Marlborough prides itself on maintaining confidence as a core value, but it must practice what it preaches. A school can hardly claim to impart this value if it does not first show confidence in its students. Girls should not feel that the School deems them incapable of making appropriate decisions regarding their own attire; if students are mature enough to handle challenging ideas and coursework in the classroom, they should be more than capable of choosing an acceptable outfit.
At Harvard-Westlake School, both female and male students are permitted to wear shorts, provided that the shorts are of "a decent length," according to the school's Student/Parent Handbook (and this "decent length" is more than three inches above the knee). If Marlborough's reasoning for eliminating shorts rests on the fear that it will be difficult to enforce a policy of appropriate short length, in spite of the existence of conduct infractions, then perhaps it should take a look at Harvard-Westlake's policy. If a successful school such as Harvard-Westlake can maintain policies that allow its students to wear appropriate shorts, why should Marlborough (an all-girls school) not be able to do the same?
Because enforcing appropriate short length should not be an issue, it seems, whether unintentionally or otherwise, that the School's only reason for this ban comes from a fear of students being viewed in a sexual manner, a reason which would disturbingly imply that the School is worried that members of the Marlborough community might view students in this way.
We agree that a school environment must have its own regulations on professional and appropriate attire. However, shorts can most definitely be appropriate, and we strongly encourage Marlborough to reverse its decision, so that this ban will not have the unfortunate effect of persuading students that the School, like too much of modern society, has given in to the harmful view of perceiving women's bodies as sexualized objects.