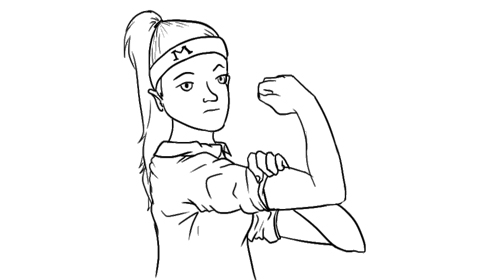 During a conversation this summer with her guy friends, Sarah '15 was asked the question she often receives as a student at an all-girls school. "You're a feminist, right? Because you go to Marlborough." Sarah says that she is a feminist, but that she believes that going to an all-girls school does not automatically make her one. Feminism was something Sarah discovered she was passionate about on her own.
Sarah believes that when she is asked if she is a feminist, her friends usually believe it means that she doesn't shave her armpits or hates men. This results from the misconception of what being a feminist means. Many people want the social and political gains the feminist movement brings, but some are turned off by the negative social connotation that comes with being a feminist.
I believe in gender equality but still think women should be free to love pink or follow certain stereotypes of femininity. Being one doesn't mean I hate men.
Before coming to Marlborough, I was already a feminist, mainly due to the criticism I had received for wanting to explore a broadcast career in the sports industry. I have had guy friends tell me countless times that I am not capable of pursuing a career in sports journalism because I am a girl and therefore couldn't possibly know very much about sports. Being told that I couldn't be successful because I am girl was unbelievable to me and laid the foundation of my strong belief that gender equality is really important.
The best lesson I've learned from the teachers, administration, and other students at Marlborough is that gender should never be a barrier to following one's dreams or being successful. Throughout my six years here, I have been taught that I can do or achieve whatever I want to achieve when I set my mind to it.
This summer I attended a sports business program, and one of the professors there told me that the reason why more women don't pursue careers in the sports field (or other male-dominated fields for that matter) is due to the fact that women, for the most part, are not confident enough in situations dominated by men. We are just as capable, but we fail to act due to this lack of self-confidence.
Marlborough instilled self-confidence in me. In every class I've been in here I've been challenged but supported, and because of my school's belief in me, I have been truly able to realize my capabilities. Not only does the School support us, it makes sure that we don't let anyone treat us like we're lesser than anyone else because we are girls.
Enrolling in an all-girls school is, in some ways, a feminist statement. In making the choice to enroll at Marlborough, we choose to not have to deal with male sexist behavior or compete with males for opportunities. This, in turn, fosters independence and confidence.
Originally, when I made the choice to attend Marlborough, I decided I wanted to go to an all-girls school so I wouldn't be distracted by boys. I've realized over the years that if I had chosen to go to a co-ed school, I would not be the same person I am today. Being in a single-sex environment has helped me develop confidence in my abilities as a student.
While promoting this independence and confidence, it is really important to note that all-girls schools don't require their students to be feminists. This is a decision that students, when correctly educated on the topic, can make on their own, and Marlborough simply provides us with the tools to make that choice.